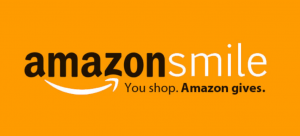 When it comes to charity, we're adept at giving online, especially when it doesn't cost a dime to support your favorite cause. Amazon Smile is a tool that authors can leverage to sell books at the same time as making some money for just about any organization there is.
Amazon Smile is a subdomain of Amazon that sells exactly the same products, but gives users the opportunity to choose a charity to support.
"AmazonSmile is a simple and automatic way for you to support your favorite charitable organization every time you shop, at no cost to you. When you shop at smile.amazon.com, you'll find the exact same low prices, vast selection and convenient shopping experience as Amazon.com, with the added bonus that Amazon will donate a portion of the purchase price to your favorite charitable organization. You can choose from nearly one million organizations to support. "
All you have to do is send your buyers to Amazon Smile instead of your regular Amazon link to be eligible:
"If you shop on https://smile.amazon.com using an internet browser on your desktop or laptop computer, your mobile phone, or your tablet (including any Kindle Fire device), then your AmazonSmile purchases will be eligible for donations. Purchases made using an Amazon Shopping App are not currently eligible for donations. Purchases made from any Kindle E-reader device through the Kindle Store are not eligible for donations."
So let's take this book, "End of Watch" by Stephen King. When you see the normal URL and Smile URL, you'll see there's basically no difference except for the "smile" part, so http://www.amazon.com/End-Watch-Novel-Hodges-Trilogy-ebook/dp/B0167CNCFY/ becomes https://www.smile.amazon.com/End-Watch-Novel-Hodges-Trilogy-ebook/dp/B0167CNCFY/. Notice it's "https" also.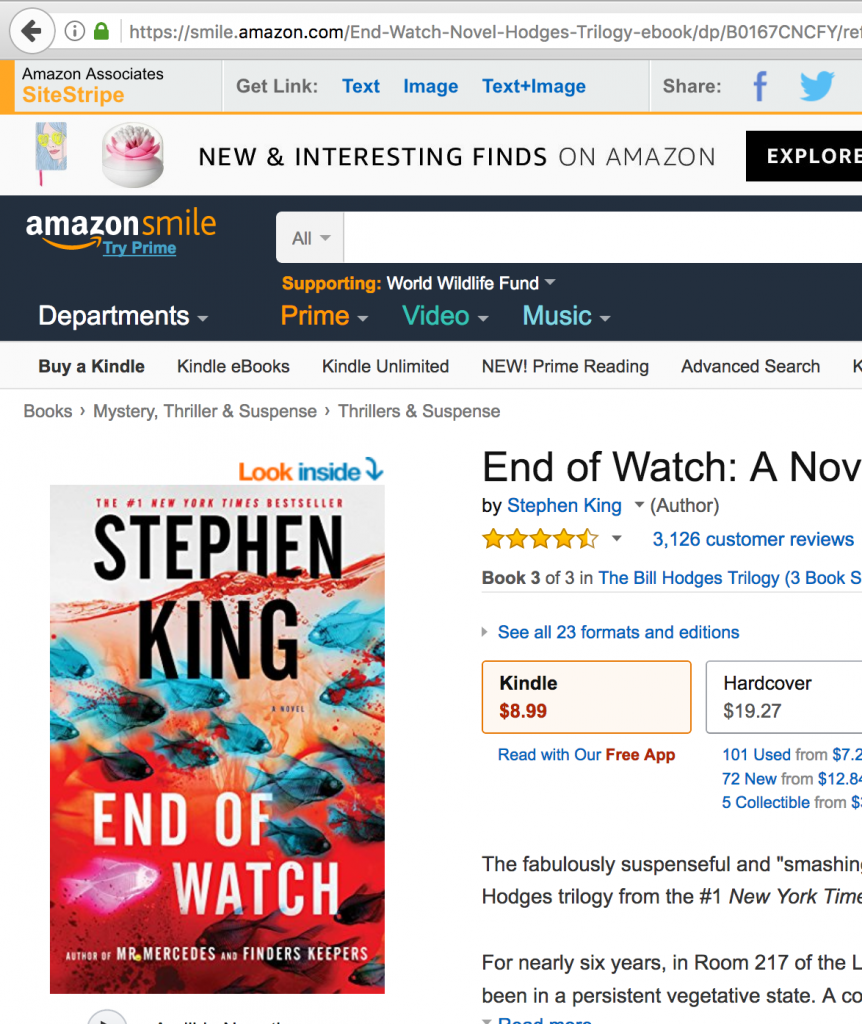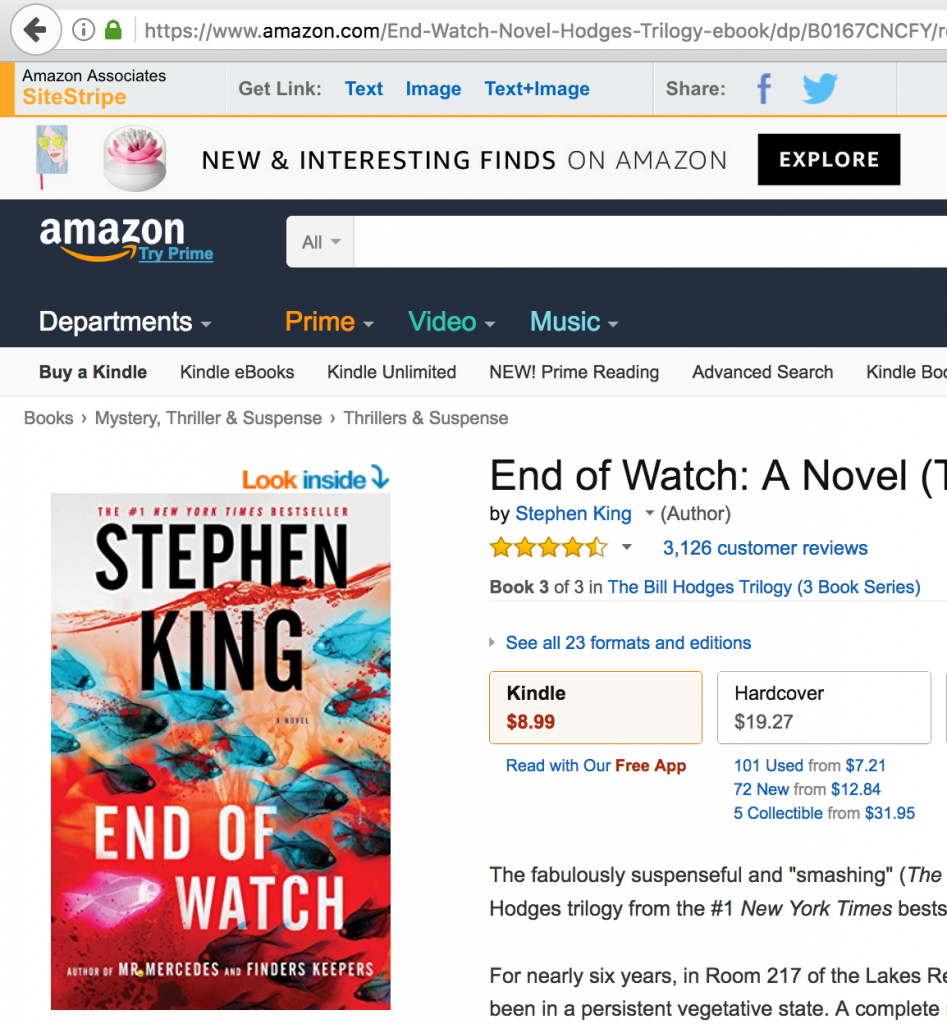 You will also notice there is a text in orange under the search bar that states the charity chosen. For example, here I have selected World Wildlife Fund.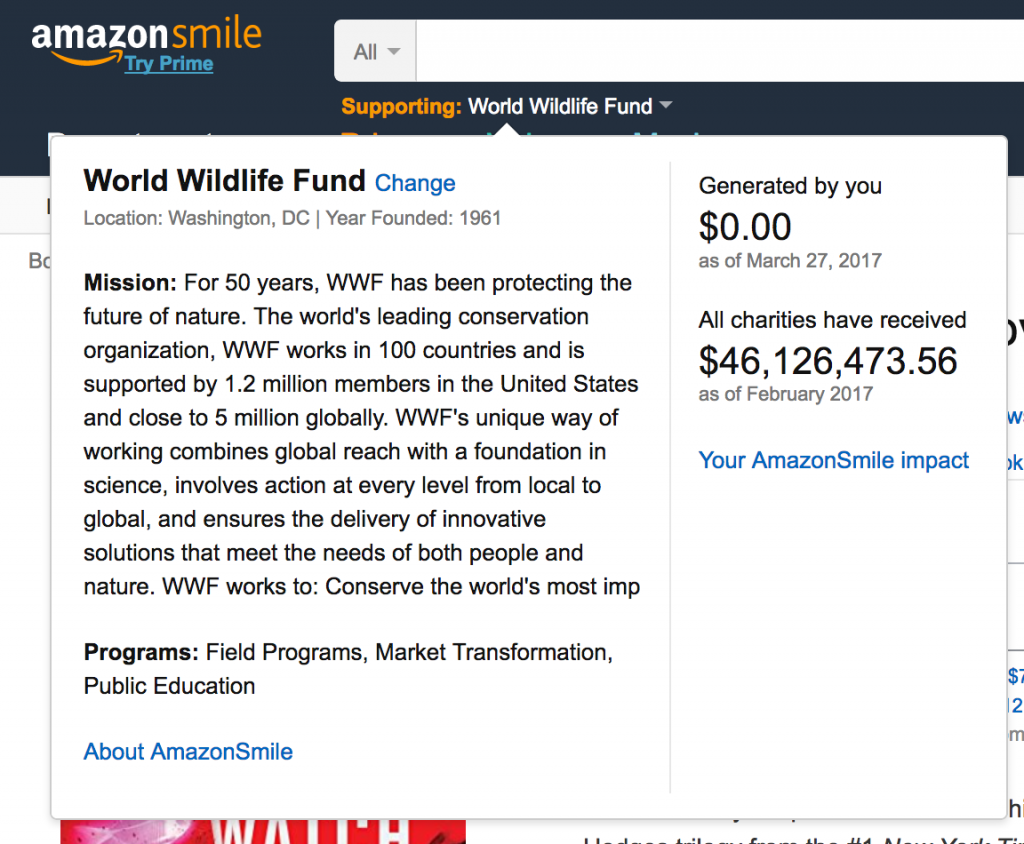 You can click on "change" to find a page where you can search for a charity you want to support: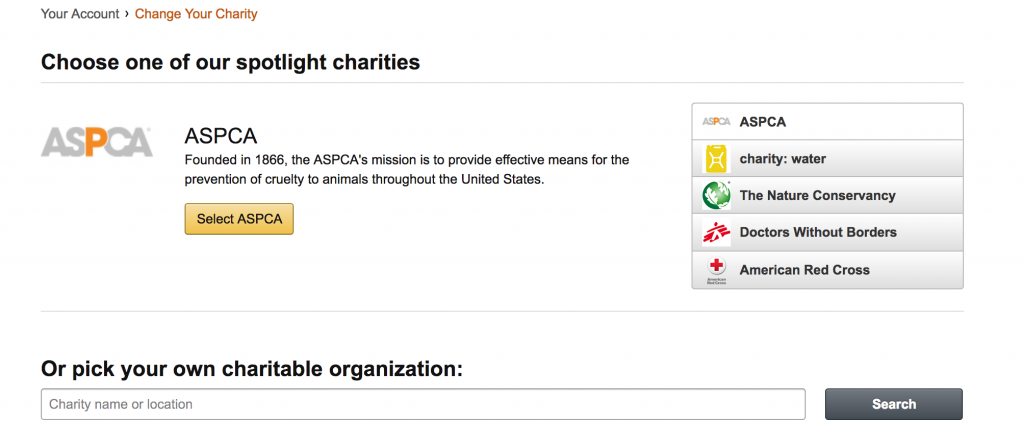 What you can do when giving out your book link is firstly add the "smile" version of your URL, and ask nicely if the buyer would add the charity as indicated, something like this:
"Hi, here is the link to my book on Amazon Smile, a great new way of buying my book and giving to charity at the same time at no further cost to you! I support "Cats and Dogs NoKill Hollywood". I would love it if you could select and set this cause as a supporter before you buy. The AmazonSmile Foundation will donate 0.5% of the purchase price to this wonderful charity!"
Throw in a photo of a box of kittens, and it's a done deal!
(Aw OK, here are the kittens…)