★★★★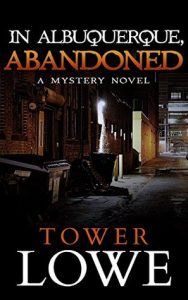 Keeping the adventures of a sleuthing duo fresh can be a challenge for any writer, but it seems as though Tower Lowe has figured out the secret to success. Within the pages of In Albuquerque, Abandoned, the seventh novel in her Cinnamon/Burro New Mexico Mysteries series, readers are not only sucked into the story of a mysterious fraternal murder, but also the strange depths of Cinnamon and Burro's lives.
This uniquely named crime-solving team is not your average pair, and both have deeply rooted issues that define them as characters. From Burro's schizophrenic visions to Cinnamon's demons of abandonment, these are far from traditional heroes. In fact, they may need just as much saving.
As this is the 7th book, much of the foundation for these characters has been laid, but even for new readers jumping into the series, a clear picture of the players is provided, without being too expository. The focus on mental health and awareness is unmistakable, but not heavy-handed. Having such a powerful undercurrent to the entire narrative, where the sleuths and the suspects struggle with mental health, puts the problem into greater perspective. Forcing readers to see mental illness from all sides is valuable and difficult, and the descriptions of both Leon and Burro are very well done.
The story is a bit of a weird one, even seeming like a Pynchon novel at times – symbolism and reality almost cross, or flirt dangerously. The story is hardly inscrutable, however. Cinnamon and Burro carry the plot forward at a rapid clip, balancing character quirks with genuine mystery. The excitement of this story isn't dependent on sex or violence, as is often seen in mystery novels, which is a refreshing change. Mental health isn't the only issue that Lowe touches on: the need for authorities to adapt and evolve in their approach to policing is another strong point that the author makes. All of these meaningful messages are woven expertly into the story, leaving readers amused and intrigued.
Perhaps the most impressive facet of the book is how Cinnamon's endless search for her mother ties into this tale, as it has done in previous books of the series. This constant through-line of the books, in addition to the many other personality quirks, humanizes Cinnamon and Burro, and gives readers a reason to truly root for them.
In Albuquerque, Abandoned forces the issue of mental health, while shining a light on the dagger's edge of self-harm, confusion, isolation and judgment that so many people with these problems are forced to navigate. Although this series has created its own niche of character tropes, the plot lines are far from formulaic, and this story pulls back a few more layers of the characters, and the author's personal philosophy.
It is rare for an author to push a thematic agenda in so many different ways, yet still deliver a high-intensity mystery. Lowe keeps the prose clean and sparkling, with hardly a wasted word, and the end result is a thought-provoking novel that will leave you eager for more adventures from Cinnamon and Burro.

Links
Author Site
Twitter
Amazon
Goodreads