★★★★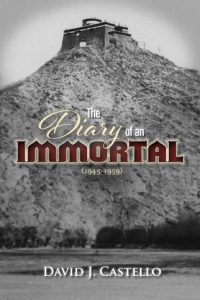 In The Diary of an Immortal, author David J. Castello shows his skills as a wordsmith and creates an unforgettable narrative that looks at immortality from every possible side.
As a main character, readers can hardly ask for more from Steven Ronson, who begins as a hapless but heroic young man who stumbles upon something unimaginable – a formula that allows him to live forever. Readers are quickly taken away from the battlefields of WWII, but the fight is far from over. Ronson soon learns that chasing his every dream, without fear of failure or fatality, is not all it's cracked up to be, and his secret isn't as well-guarded as he initially thought.
There is a perpetual urgency to the writing that makes it difficult not to always push into just one more chapter. As the true nature of this immortality formula reveals itself, the narrative shifts from the unbelievable to downright fantastic, and a philosophical edge to the writing notably appears. The style of the writing bends to these changes in plot very well; from city scenes that would seem at home in Kerouac to scenic descriptions that rival a Wolfe novel, Castello's versatility as a writer is on full display.
There is also an exciting element of adventure, as this is not simple a cause-and-effect narrative – man gets blessed with amazing powers and deals with it in amusing, and perhaps noble ways. The writing digs into the meaning of life and the significance that hindsight and history can play in today's modern world. Granted, this book is set 60 years in the past, but it also ends up discussing the origins of Christianity and the most powerful belief system the world has ever seen. Castello is fearless in the topics he both addresses and challenges, and Ronson is an excellent microphone for these ideas.
There are moments in the book that feel like reading an Ian Fleming novel, but also deeper, more thoughtful passages reminiscent of Robert Pirsig's subtle brilliance. As a whole, the author never lets readers forget what direction the plot is moving, but isn't afraid to take some tangents and let the mind wander.
The supporting characters add structure to the story, but aren't as thoroughly developed as Ronson, which was a bit of a disappointment. That is the one weak spot of this story; the importance of the context and conflict supersedes too much character development. Technically speaking, the writing is impeccably edited and a pleasure to read, and the pace never slackens, but Castello could have taken more tangents with his secondary characters.
An excellent outline lies behind these words, because despite having a complicated and globetrotting plot, the moving pieces stay in place, crossing paths at precisely the right moments. The stakes never stop rising, and when Steven must eventually face off with his evil immortal counterpart, the book reaches a fever pitch with a satisfying final crescendo. Castello has a fine ear for historical language and mood, and he skillfully weaves together a fusion of genres in this exciting and thought-provoking novel.
Links
Author Site
Twitter
Amazon
BookBaby
Goodreads