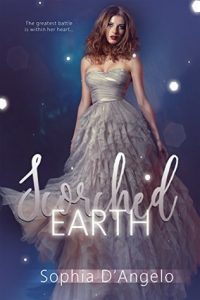 When fate brings two wayward souls together in the New York City, they may overcome their very worst to bring out the best in each other…
Not long ago, Alex Chrisman and his brother were left without parents, forcing Alex to take custody of his brother while struggling to meet the demands of his daily life. A chance encounter brings Danielle Sterling into his life – a young woman new to the city, looking for a fresh start away from an abusive mother. When dark first impressions give way to a bright side, romance begins to blossom, just in time for fate to intervene once more.
Scorched Earth is the first New York in Love book, and makes quite an entrance with a heartfelt romance and sympathetic, complex characters. D'Angelo's writing is eloquent and thoughtful, making use of apt metaphors and imagery. At the same time, heart-rending moments could have had a little more impact on the page, lacking a certain immediacy, as the twists in Alex and Danielle's relationship are uncovered somewhat slowly.
The book overall is solid and engaging, while hitting many of the same marks as other romance novels. It hits those marks very well, offering a page-turning New York romance from an emotive new author.
Links
Author Site
Twitter
Amazon
Goodreads