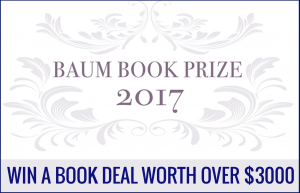 With a book deal from Kwill Books worth over $3000 in publicity, editing, and reviews, it's a prize open to any independent author looking for a boost for their new work!
Henry and Cate Baum have been working with indie authors at Self-Publishing Review and Kwill Books for a decade, offering author advice and services. This new prize seeks out new talent and both Henry and Cate will be working with the winner to launch their book at Kwill Books in October 2017. Authors who cannot afford to publicize their book professionally now have a chance to win a massive array of publishing and marketing goodies.
There is a reading fee of $25, but SPR Members and Early Birds get $5 off. So enter now to get your discount!
More details at Kwill Books here.