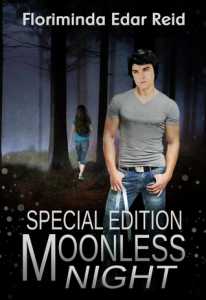 Alana has an ordinary enough life for a typical teenage girl. Now living in the idyllic New Zealand town of Taraka with her widowed mother, her main concerns are her appearance – in particular, her unusual, mismatched eye colors – and chronic dreams of a mysterious stranger. Things could certainly be going better, she thinks, until she meets the man of her dreams – literally. But this mystery man is more than just a handsome stranger; Christian is from another world altogether. And whether he wants her to or not, Alana becomes entangled in his world as well, with danger awaiting them both…
Moonless Night is the debut supernatural romance novel by Floriminda Edar Reid, now re-released as a Special Edition, boasting a refreshed cover in line with the later titles in the series (Elusive Dreams, followed by Evening Star). Despite this being a second edition, the book's prose still flows fairly poorly and stumbles on frequent grammatical errors, to the detriment of an otherwise decent plot and engaging romance.
All the elements are there for a successful paranormal romance novel, as the story is full of well-timed twists and turns that keep the book moving at a quick pace. For those who are able to overlook the substantial editorial issues, Moonless Night is an easy-to-digest and surprising supernatural romance.