★★★★½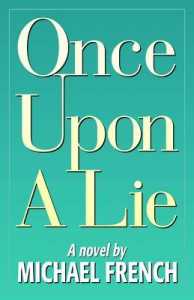 In Once Upon a Lie, author Michael French takes a long, hard look at the binary universe in which we live – rich or poor, black or white, woman or man – and explores how those ideas change and grow within two young people on the cusp of adulthood. It's a timely and powerful tale of race and love.
These two characters, Jaleel and Alex, couldn't be more different than one another if they tried, and the early chapters paint starkly different portraits of their lives in the same overlapping bubble of a city. The marvelously detailed and meticulous nature with which French writes is like watching a painter create a scene one brushstroke at a time. Every casual word or offhand bit of narration is meant to entrance readers, immersing them in the socioeconomic, cultural, racial and aesthetic universe of these two young people.
The first 1/3 of the book keeps the two focal characters, who alternate chapters as narrators, separated from one another, but it is clear that their bubbles are about to burst in on one another. Their pasts may stand in shocking contrast, but the present brings them together in a remarkable way. Crossing to the other side of the tracks, literally, Alexandra is introduced to a world she has never experienced, and one that she has been made to fear, in many ways. It all begins with a casual conversation, a chance encounter that sparks Jaleel's interest in her – his smart, mysterious and rather fearless new friend.
However, the deadly secrets of Jaleel's past, regardless of his innocence, haunt his days and force him to remain closed off and isolated as a character. Bridging the divide between privilege and poverty is a difficult narrative for any author to juggle, let alone involving interracial romance, commentaries on the justice system, race relations, and general philosophy along the way, but French pulls off his narrative sensitively and impressively.
The side characters, particularly Alexandra's mother and father, reveal an added layer of depth for readers; spending so much time developing a clear generational gap in thinking and behavior sends a strong message. Things aren't ideal, but the general progress is forward, and upsetting stumbling blocks in ignorant minds can be overcome. The detail with which the author constructs all of these lives makes every scene visceral and memorable. He has thought through the complex emotions and dynamics of a black man and a white woman falling in love, and fighting against the constructs that would seek to tear them apart.
Although the story is set in the 1990s, this is a timely and powerful book that digs into many issues still being faced today. Beautifully penned with intimacy and grace, Michael French makes readers care about these characters right from the start. What could have been a heavy-handed remake of "Romeo and Juliet" ends up being an insightful and brutally honest snapshot of modern romance and societal growth, even through the lens of the past. Once Upon a Lie does not disappoint, nor will it be easy to forget.
Links
Author Site
Facebook
Twitter
Amazon
Goodreads