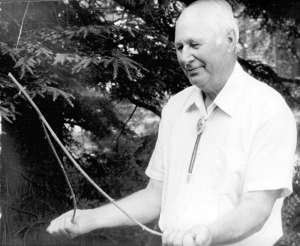 Harry Brown was a farmer, chauffeur, Boy Scout leader, storyteller and dowser. Born in 1907, he lived to be 102 years old. He lived in Halifax , Massachusetts for 98 years, making him almost a "townie." The author owned Kemah Farm in Alexandria, NH. He was married to Mildred Blackman and had two children, Stephen and Deborah.
Tell us about your book.
Stories of Yesteryear – Horse and Buggy Days is a reissued book, written and illustrated by Harry H. Brown, that present an appealing collection of stories and tales about small-town rural New England life.
With wit, warmth and whimsy, this compilation of fifty-nine stories with primitive illustrations, charts the now gone by rural village of Fullertown, Massachusetts, now a part of Halifax, from its early settlers in the 1600's to the horse-and-buggy days of the early 1900s. Along the way, Brown paints a convivial, authentic portrait of the early settlers as they they came together to create the American spirit.
These are folk tales in the truest sense of the word; they tell the reader not only funny or intriguing happenings, but also the everyday events of bygone years: how people went about their business but why.
The stories are brief, averaging a page in length. Even so, the stories are full of levity, but beyond the amusing moments, remarkable stories are introduced in which heartbreak makes it way in; the variety in tone works to the collection advantage.
Lovers of rural life, New England and Americana should find a treasure trove in this collection.
Why did Harry write the book?
Harry Brown (who left us at the age of 102) wrote the book to keep alive his timeless stories and the values of the old New England community life he held so dear. The family decided to re-issue the book to help keep alive the folklore and history of rural life which if not preserved will be lost to the dust pan of an ever changing world.
Stories have a lot to tell us as to who we were and provides a window into another, very different world.
Why did you choose to self-publish?
The book was written and published by Harry H. Brown and his wife Mildred, who reluctantly abetted his project. Self-publishing in the 80's was tough, in that once one decided to self-publish, you not only had the weight of the effort to print the book but carry all of the inventory and sell the book by "pounding the streets." The decision to self-publish the re-issue was to ensure that a new generation of readers would be able to experience the tales and have some good droll fun.
What tools or companies did you use, and what experience did you have?
Createspace.com was used to publish the book. The company, a subsidiary of Amazon, helped in writing the book description and designing the cover. Overall our experience was positive. In addition, input was gathered from a variety of people who enjoyed the book and wanted to see it come to light again.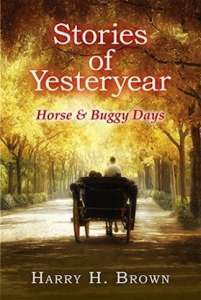 Would you self-publish again?
Now that I have gone through the process once, it will be easier next time.
What do you think are the main pitfalls for indie writers?
As an indie writer/publisher, one has to do it all. Yes, help is available but that helps comes with a cost.
What tips can you give other authors looking to self-publish?
I, Stephen Brown, Harry's son, spend an hour a day studying writing and self-publishing and each week spend at least a half day practicing what I learned.
What was your steepest learning curve during the publishing process?
Editing the book and marketing the end product.
Tell us about the genre of the book, and why he chose to write this sort of book.
The genre is historical fiction that is both humorous and truthful. The seed of each story is true but details are enhanced so the reader is given a window into another, very different time.
Why did he write about this particular subject?
Harry was one of the last Yankee storytellers and I wanted his stories to live on.
How do your friends and family get involved? What do they think of the book?
Without the help of family and friends the book would not have been re-published. Editing, formatting and fact checking was a big job.
What are your plans now the book is published?
The plan to continue to speak on and promote this book. However, Harry has left behind reams of material which could be cobbled together into new books. It would also be fun to record some of the stories.
What did you learn on your journey as a self-publisher?
This is tough work that can be discouraging, even so, one must learn to plow on.
What's next for you?
After Harry's stories are captured and shared with the public I would like to write a book on how stories can help one heal, grow and become an authentic person.
Links
Facebook
Amazon
CreateSpace
Goodreads