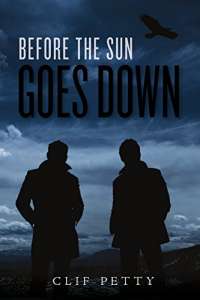 Ancient beliefs and modern madness converge in Before the Sun Goes Down, a military thriller from Clif Petty that touches on everything from Native American traditions to the looming threat of global war.
Reuben Axtell is an unassuming college student, fumbling his way through the world, when his life is suddenly swept into conspiracy and confusion following the death of his friend Rains. What begins as a localized murder mystery – albeit a strange one – soon becomes a broad and sweeping thriller that goes far deeper than old ghost stories told around the reservation campfire.
Clif Petty captures the emotional turmoil of his lead character perfectly, but Reuben is also blessed with a masterfully fast maturation process. Without rushing the plot, Axtell quickly goes from directionless to driven, motivated by threats to his own freedom, and also his desire to unravel the mystery of his friend's death.
The writing is dark at times, and the slowly building tension pulls readers onward like the countdown clock of a bomb. As the stakes continue to rise and the true scope of this novel takes shape, the pace reaches a fever pitch. Blending sincere human emotion with strong military research and a whip-smart storytelling style, Clif Petty delivers a suspenseful, wild, and memorable novel in Before the Sun Goes Down.