★★★★★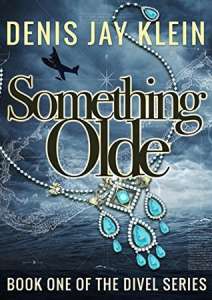 When heiress Sandy Waters decides she's getting married in Bermuda, she wants to wear Something Olde – the cursed family heirloom, The Divel Necklace, once lost overboard from the ship Sea Venture in 1609, into the Atlantic ocean's churning seas surrounding the island in a hurricane so awful that it inspired Shakespeare's The Tempest – and worn ever since its recovery at Waters' family weddings.
The only problem is, it's locked in a vault, and the only man that can open it, Clark Dearborne, is having second thoughts about turning up with it. He's got a choice – deliver the necklace, or run off with it and live the life he's always wanted in lieu of Sandy's family losing his retirement fund in a gone-wrong investment scheme. But there's going to be a Tempest of their own – a plane ride into some of the stormiest weather any of them has had to endure, in the middle of the most infamous triangle of water seafarers have legendarily dreaded for centuries. Not only that, a dilemma of which girlfriend Clark might want to run off with, who might want to take this cursed necklace off his hands, why, what, wherefore…there's a lot of issues with this plan!
Denis Jay Klein writes dry and humorous lines, and Something Olde is an out-and-out comedic runaround. Conjuring up images of vintage Magnum PI in the good old days when Tom Selleck had an uncomfortable blonde hanging out of his seaplane is not hard, and Klein plays to these rules with great success: likeable ex-pat rogues mingle with the conceited mainlander "noveau riche"  and the perturbed locals on the island beautifully. Characters such as Benny The Fence, the local jewelry thief willing to take on the heist, for example, is a hoot,  as is Sandy's own mother, trying to prevent the necklace from making it onto her daughter's neck at all, convinced the thing will cause her marriage to fail, just like it has her own.
Klein's own apparently detailed local knowledge of Bermuda, its history, and the sea and plane-faring technicalities needed to venture there at all, add up to a really cozy kind of read. These details are always important in this sort of book, and Klein has played to his strengths well here, not trying to do anything outside of his knowledge base. This is why the book is such a successful piece of fiction.
The book is also really well-presented, and has a great cover to go with it. Hopefully it will be in paperback soon, so that artwork can really be appreciated.
For a cocktail of mayhem that basically anyone looking for a light and very entertaining read, perhaps on vacation at the beach (although maybe not on the plane or boat on the way there!) will enjoy.
Links
Author Site
Amazon
Goodreads