★★★★½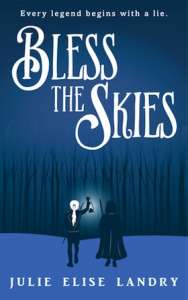 Bless the Skies by Julie Elise Landry is a riveting and provocative work of dark fantasy, which follows the lives of three girls, Laeli, Sophia, and Elaina, who must navigate a bleak and desperate world. When Elaina is kidnapped and enslaved by the twisted High Lord Lawrence Anderton, Laeli and Sophia risk their lives to save her, through a dangerous and unforgiving landscape.
Although the journey narrative of the novel might suggest Lord of the Rings fare, Landry takes her characters to much darker depths than Tolkien, or even Game of Thrones. So much of fantasy fiction is, well, a fantasy – i.e. transporting you to a fantastical, and mostly-safe place. Even sword-fighting, wars, and death have the comfort of distance between a fantasy world and our own. Such is not the case with Bless the Skies, which doesn't shy away whatsoever from adult themes, and goes into some deeply dark territory.
Landry delves into such issues as prostitution, slavery, torture, and more, which is wholly accurate for a "dark age" book, but, again, a place where much fantasy fiction fears to tread, even as it mimics in some degree the world of the Middle Ages, which was rife with these sorts of issues. Of course, Landry adds in a whole level of magic, which makes the dark world of Vilez even more daunting. This isn't a fantasy that whisks you to a place where you wish you could live, but one that makes you feel some degree of despair about the human condition on the whole. For young adult readers, there is a lot here that may be disturbing – primarily the abuse of a child by her kidnapper.
That the book is so evocative, and inspires such deep empathy with the characters, is a testament to the power of Landry's writing. This is an unsettling book, and that is because Landry paints each moment so vividly. If anything, the book is sometimes dark to a fault. While it's in some part an accurate depiction of "man's inhumanity to man," the world Landry has sculpted is so depressing and downtrodden that it becomes a little too much to take in at times, and Landry doesn't always offer enough light to balance the dark. That is, only at times, and as you feel deeply for these characters, it draws you into the story, no matter how dark it sometimes get.
There is a lot for Landry to manage in this story: told from intertwining points of view, this could either become confusing or even disappointing if the reader becomes attached to a character before having to jump to another one. This is not really a problem with the novel, although there are times when the switch is a bit abrupt, or even not immediately apparent. The novel is also somewhat slow to start – understandable given how much the book needs to set up, but still not as immediately engrossing as it could be.
Overall, Bless the Skies is an impressive and unique work of fantasy fiction. Vividly told, it will stay with you long after you finish reading, and you'll hope for another installment, even as this novel is such a harrowing read.
Links
Author Site
Facebook
Twitter
Amazon
Goodreads