★★★★★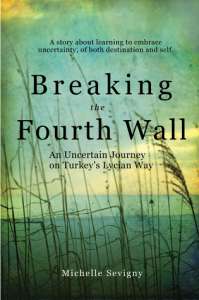 "Even with ropes, a fall in the wrong place could be fatal." So reads the guidebook for the trail that author/adventuress Michelle Sevigny traverses.
After confronting some painful events in her middle years, most recently the loss of her beloved dog to cancer, Sevigny seeks comfort through her longtime enjoyment of hiking. Walking the Likya Yolu, the Lycian Way, with its 500+ kilometers of winding paths on the southern coastline of Turkey, seems the ideal antidote to her nagging sense of emptiness. The trail is marked…sometimes. In other places, she needs to rely on a technology that even she found baffling: GPS. Most of all, she will have to rely on her instincts as a well-seasoned traveler.
With tent, chair, water pouch, battery pack, cell phone with camera, and a journal, she learns new words in Turkish for her trek. Though she occasionally trades notes with other sojourners, she prefers walking alone, relying on her own inner resources. When she wobbles off the path and finds no clues from the ever-vexing GPS or the dated guidebook with its many dire warnings, she often finds assistance from the natural world. A bird, a goat, a sudden wind, somehow indicate the way.
Her meetings with dogs are most poignant, showing how much she misses her departed canine, making friends with even the metal-collared herding dogs, regarding them as her own personal protectors. Returning to the path after getting lost, sometimes battling hunger and thirst, she builds rock cairns to mark the trail for new sojourners. Not surprisingly, she meets men who stir her in different ways: one, an ex-con, perhaps a terrorist, makes unwanted advances, forcing her to recall an unpleasant incident from her adolescence; the other is a handsome Russian she'd like to know better.
Drawn from the author's hand-written journal, the book depicts some classic travel discomforts (no water, no food, no fire, and that more modern annoyance, no wifi) and her occasional joys (a cooling "bath" with a cupful of water, a simple but tasty meal offered by locals, a few words exchanged with those she meets along the way). These emotive vignettes will engage seasoned hikers and wannabe trekkers alike. Her pride at undertaking the ambitious walk is clear every step of the way.
With elegant prose, sometimes verging on poetic, and Sevigny's clever, multilingual word play, Breaking the Fourth Wall establishes Sevigny as a serious and dynamic author of travel writing. She adroitly conveys exotic sights, unusual people, and cross-cultural encounters, while balancing these descriptions with moments of contemplation and thoughtful repose.
This isn't a book just about Turkey, or even just about travel, as Sevigny's "Uncertain Journey" leads to her coming to terms with her own deficiencies, and the problems thrown her way, making Breaking the Fourth Wall a book that touches on themes that apply to all of us, so this engaging travel memoir should have universal appeal. Those who have a specific interest in the region could not have a better tour guide.
Links
Author Site
Facebook
Twitter
Amazon
Goodreads