★★★★½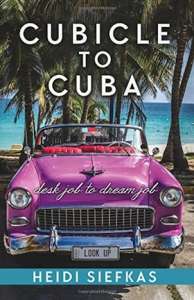 Cubicle to Cuba: Desk Job to Dream Job is an engaging travel memoir about Heidi Siefkas leaving her job at an internet start-up, dropping everything, and working as a tour guide in Cuba. Siefkas gives the nuts and bolts about adapting to life in Cuba, as well as traveling to Australia, Italy, Peru, and other points around the world. As with her previous memoirs, it's a spirited and page-turning read.
Siefkas has lived quite an interesting life – after nearly facing death after being crushed with a falling tree branch, which also saw the dissolution of her marriage, she's always shown an adventurous and open-minded spirit to rebuild herself and try new things. While the first two books were more achingly personal, uncovering her personal struggles and overcoming them, here she takes on the role of travel guide.
The book is at once about Cuba, but also about travel in general: escaping the drudgery of office life (what she deems "Cubicle Land") for exotic locales, though most certainly Cuba is at the book's core. Given her hardships, it puts her adventuring in particular perspective, and even more impressive. She rose from the ashes and then some.
In fact, the book would have been helped to talk more about her previous trials – not just escaping "Cubicle Land" to Cuba, but her major injury as well. As she's being enormously active in her new life, it adds an extra layer of marvel. It's understandable if she didn't want to double up information for readers of her previous books, but for new readers this information is vital to understanding her adventurous path, and would make the book work better as a standalone.
As it is, the book does work very well on its own terms, and that is because of Siefkas' knowledge and passion for Cuba. She intersperses information on her own travel with the history of Cuba, customs, food, and more. She's a delightful, down-to-earth tour guide, and as always, her writing is clear and to the point. She's not overly embellished in her writing, but she is such an engaging guide that you'll be drawn into her narrative. The star of this book then is not the prose, or even the events and locales she describing, but Siefkas' voice herself.
At the same time, Siefkas could have embellished more than she has here. When she writes of her interaction with Cuban people, such as being hit on by her driver, she doesn't really get into how this transpired – there's no dialogue, for example. She doesn't always get into the details of the sights, sounds, and smells of the country, so the reader feels as if they're being transported to the locale. More, Siefkas is leading by example, as if saying – this is what I did, and you could to. She gives potential travelers instructions on how to get by in Cuba, and other places, as well as teaching by example about what not to do, and what you absolutely should try.
In this way, Cubicle to Cuba is an inspiring read – if not inspiring an instant trip to Cuba, or the other places she writes about, it will most certainly inspire an interest in the world at large, as well as the potential of living in a foreign country. Most of all, it will create new fans of Siefkas' unique take on life, and readers will look for a book four in her compelling series of memoirs.
Links
Author Site
Facebook
Twitter
Amazon
Goodreads