★★★★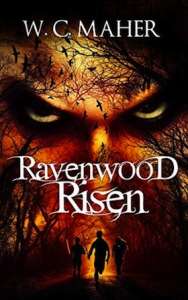 Being wrenched from a life of pastoral normalcy and forced into a destiny fraught with sacrifice and struggle is a common foundation for many fantasy novels, but in Ravenwood Risen, author W. C. Maher takes a new angle on this classic theme. Although the rumors swirl and dangers appear to be creeping in at the edges of Aman, the small region of Colore seems relatively untouched. Ephraim and Jules Ravenwood unwittingly go about their daily lives, ignorant – but not unprepared – for what the world will soon demand of them.
In the same vein as the Shannara series by Terry Brooks and even Tolkien's legendary hobbits, the world of this novel is huge in scope and scale, but the insidious danger begins simply enough. A dark man passing through the forest, a spat of farm animals dying, a storm brewing and a strange creeping menace just out of sight all lend an eerie tone to the early parts of this novel. Readers are privy to the secret that all is not right in the world, but the characters populating these pages remain unaware.
Ephraim and Jules Ravenwood have a famous father, the Clenched Fist of the king, who once fought valiantly against the forces of evil many years ago, before abandoning that life for a simple, anonymous existence in the country. The past cannot be escaped, however, and as the threat begins to loom greater in the land, Gunter Ravenwood is once again called to serve. He won't be doing it alone: his children are coming along to follow in the family's tradition of service.
Thus the epic quest begins, occasionally stuttering through revelatory narration and information dumps, but generally moving at a good clip. The plot progresses in an interesting way, as it isn't always clear which of the children, if not both, will become the leading hero in this new family dynamic. It quickly becomes clear that Jules is far from helpless, and has hidden powers of her own, and it is only a matter of time before Ephraim discovers his own potential. The question is, as the darkness continues to gather, and the name Ravenwood becomes more dangerous than ever, will these young warriors be up to the challenge?
Like the start of so many other fantasy sagas, this YA adventure is cloaked in mystery, with family secrets and ancient prophecies slowly being dripped out to readers like breadcrumbs, leading them deeper into this expansively-designed world. The creativity and craftsmanship shown by Maher is impressive, and the story is engaging and smooth. While the premise isn't particularly unique, the characters are believable and the excitement of a journey with no apparent end point will enthrall long-time fantasy readers.
The stakes continue to rise throughout the novel, and between well-developed action scenes, painful betrayal, unexpected loss, family ties, and desperate times, the heart of this story takes shape. It is a tale of growing up and finding your path – cliché within the genre to a certain degree, but very well-drawn here. Maher does an excellent job of constructing these characters and gently allowing them to grow throughout the book, which will have readers eager to see that progress continue in the rest of this thrilling new series.
Links
Author Site
Facebook
Amazon
Goodreads