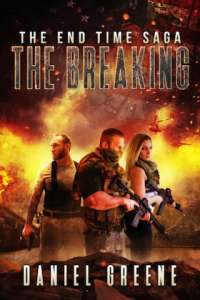 In a world of mindless zombies, eccentric hillbillies, deadly skill sets and endless loyalty to the people you've survived beside, Daniel Greene has carved out an exciting apocalyptic series that stands head and shoulders above other offerings in the zombie genre.
In The Breaking, the sequel to End Time, readers are dropped back into the world of Steele, Mauser and Gwen, as well as a United States that has fallen under the weight of a zombie onslaught. Multiple narrative perspectives provide readers with a three-dimensional picture of this harsh new world, which constantly borders on insanity. Death lies around every corner, making each conversation, decision and turn of the page a tense, potentially deadly moment.
Despite imbuing every page with this suspense, Greene also fleshes out his characters from the first book in meaningful ways, pushing readers' investment deeper, and making it more and more difficult to ignore how good this series truly is. His descriptions are vivid and visceral, woven seamlessly into action scenes and exposition alike. Greene also puts the savage side of human nature on full display, providing a strange and twisted mirror to the hordes of the undead beating at the doors.
With a fast-moving plot, high stakes, and a compelling cast of complex characters, The Breaking is a tour de force in the zombie apocalypse niche, and Greene deserves to have a legion of hungry new fans after this installment.
Links
Author Site
Facebook
Amazon
Goodreads