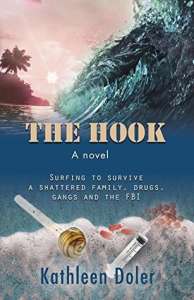 The Hook by Kathleen Doler is a compelling novel about a number of seemingly disparate subjects – surfing, addiction, news reporting, drug wars, and more. Dana, a business reporter, has a love of surfing, and her brother, a former professional surfer, has fallen on hard times due to drug addiction. While Dana tries to protect her brother from his addiction and a dangerous drug war, she finds solace in surfing, and ultimately comes to terms with herself and her difficult family history.
Though the subtitle makes it seem like a work of non-fiction – "Surfing to Survive a Shattered Family, Drugs, Gangs and the FBI" – it's a work a fiction (so that title might be a bit misleading). Doler's writing is vivid and expressive, especially when she writes of surfing.  She makes interesting parallels between surfing and drug addiction, poetically detailing the highs and lows in a similar way. About surfing, she writes, "We'd escape, blanking our minds…"
The book touches on a lot of genres, which is definitely to its credit, but may throw some readers off who are looking for straight crime fiction, or literary fiction, or family drama, or addiction tale. What keeps the reader on their toes is that there are so many moving parts in Doler's narrative, and her writing is so evocative, as she writes movingly about her characters' emotional turmoil, while still keeping up the pace of a thriller.
A unique and lyrical work of literary crime fiction, The Hook is both soulful and page-turning.
Links
Author Site
Facebook
Twitter
Amazon
Barnes & Noble
Kobo
Goodreads