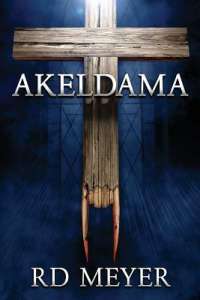 Turf wars and unlikely alliances are hardly novel concepts in fiction, but add gangs of vampires and a 2,000-year-old conspiracy to the mix and you've got yourself a well thought-out tale in Akeldama that goes far beyond your typical vampire fare.
Newly-appointed Hunter, Seth Gendrickson, works for the Catholic Church's secretive Order of Mount Sion, a group of vampire hunters. His small team's first assignment is to investigate a worrisome spike in vampire activity that's left a few gruesome remains and troubling questions in its wake. Seth is young and eager to prove himself which leads to some horrible consequences and a surprising revelation – that something is hunting and slaughtering all the vampires. He's forced to join alliances with Maxwell, a vampire, and despite their mutual animosity and distrust, both quickly realize that a united front is necessary if they are to survive.
What makes Akeldama particularly compelling are the various factions of vampires involved in the struggle for supremacy and survival – among them The Assembly of Cairo, older and more powerful than the brash and violent Los Muertos, a younger group that murder with reckless abandonment. Lastly, there is the breed of "supervampires" that have greater powers than all the others put together. Gangs and religion make for strange bedfellows, yet Meyer manages to weave a believable tale, replete with violence, bloodshed, and vivid descriptions. The violence is nicely balanced by a 2,000-year-old conspiracy, which keeps the story compelling rather than mired in constant bloodshed.
With all its positives, the novel does require a thorough edit to correct the typographical and grammatical errors throughout. All in all, Akeldama has a unique spin on vampires and much to offer lovers of the genre.
Links
Author Site
Facebook
Amazon
Barnes & Noble
Smashwords
Goodreads