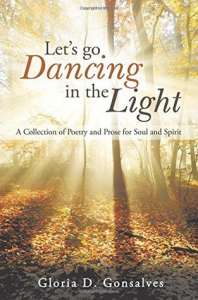 A poetess and storyteller, including children's fiction, Gloria D. Gonsalves will touch hearts and minds with her evocative short compositions in Let's Go Dancing in the Light: A Collection of Poetry and Prose for Soul and Spirit.
Admitting a leaning towards Christianity, Gonsalves embraces other faiths in this uplifting and well-rounded work. Some pieces exude the enigmatic quality of a Zen kōan, as in "To the Denizens of Now":
There's no year…Would we want a calendar?
There's no finish line…Would we stop bustling?
Each piece in the collection speaks of gritty human experience, sensual and violent, poignant and unexpected, expressing a right to hope and an audacious will to live.
Opening with, "Anger was not an option so I became docile and timid," Gonsalves is anything but shy in this bold treatment of the relationship between soul and spirit. Multilingual and multicultural, she marches out waving a banner in almost every line. Her selection of the best word, the right image, is notable: "Farewell descending shoes hello ascending crown"; "His mouth recited prayers and hymns, I dared kiss him to purify my poetry." This resonance infuses even the more personal, less universal contributions.
Gonsalves shows here that she is a writer for thoughtful, mature readers as well as children in this inspiring compendium of poetry and prose.
Links
Author Site
Facebook
Instagram
Soundcloud
Amazon
Goodreads