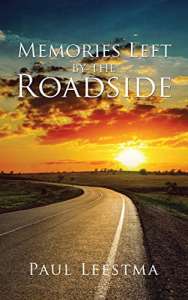 In his second book of verse, poet Paul Leestma vows to go beyond his own experience, creating a new view of larger concepts of love and destiny. In this emotionally charged collection, the author delves into the mystical quality of memory and explores it in depth.
In Memories Left by the Roadside the themes are at once universal and also intensely personal: "As I have aged, so has my love for you"; "Do you still think of me when you hear our song?" There is palpable melancholy, as when he remembers the girl who lives on Rte. 29 with whom he can never connect. Several pieces speak of losing love, of missed chances. But there is joy too: "For once in my life I know how love feels."
Leestma's poetic vocabulary is strong and straightforward – dreams, darkness, destination, forbidden, fire, fate. The link between recollection and travel is developed in several selections, such as "Just a Memory": "The distance that lies between us seems to lengthen as each day passes." These are serene thoughts, simply put, not weighted down by ornate language. A criticism is that the poems do seem at times like prose chopped into verse, rather than having their own poetic cadence.
Overall, Memories Left by the Roadside is an appealing collection in which readers will find a kindred spirit who seeks love and meaning on the winding road of life, and expresses that search simply but eloquently in these evocative poems.
Links
Amazon
Barnes & Noble
Kobo
Goodreads