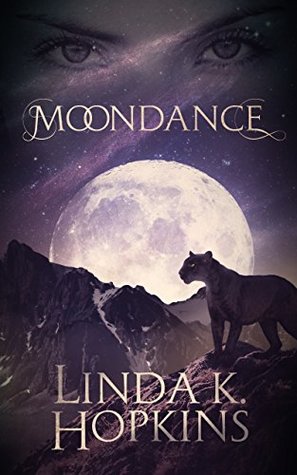 Workplace romance is never easy, but when the apple of your eye turns into a panther, the usual office drama pales in comparison. In Moondance, a paranormal romance by Linda K. Hopkins, the author takes a very literal approach to the idea of romance as a dance between predator and prey.
Melissa, a business woman who keeps her days filled and her love life empty, reconnects with an old friend who has grown distant. As she begins to allow her old friend back in her life, she's stymied by his sudden vacillations between the friend she remembers and the frigid team leader she knows. To complicate matters further, she can't stop dreaming about a panther that stalks her as she sleeps. When those visions begin creeping into reality, her relationship takes an unexpected turn.
While there are plenty of shifter romances on the market, Hopkins' novel does a very good job of examining the complications and dangers a shifter would face in the modern world. She also provides lots of opportunities for readers to slip into Melissa's skin and develop empathy with the characters. The book is fast-paced to the point where it could have taken its time a bit more, and a few of the references are bit too on-the-nose, but overall Moondance is a fun, well-trimmed story that will definitely appeal to shifter and paranormal romance fans.
Links
Author Site
Facebook
Twitter
Amazon
Smashwords
iBooks
Kobo
Goodreads