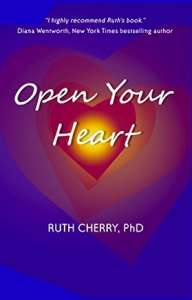 Open Your Heart by Ruth Cherry is an uplifting work of fiction about embracing one's life and purpose. Anne, a middle-aged psychotherapist, feels restless and unfulfilled. Desperate, she voices a prayer for help, and a spirit guide named Hannah, in the guise of a crusty crone, appears to help. Hannah introduces more spiritual advisors: Maggie inspires Anne's artistic vision, while Theresa reminds her of the youthful happiness and passion she has long repressed.
The guides advise Anne to stop trying to control her life, to let go, to fly. Once Anne absorbs these messages she meets Alex, who blesses her with the desire for partnership, and Robbie, a helpless baby who brings out her maternal side. Gradually the visitors fade away and Anne's life is back in her hands, but with a difference: no longer controlling, she can accept, listen, and be. It's an uplifting message that's fortunately low on Hallmark-style bromides, though its title suggests something potentially more generic.
Psychologist Ruth Cherry writes with an obvious affection for her protagonist, as though she has walked her walk. Cherry has constructed this story as a gentle teaching tool, adding just the right guidance at the right moment for the development of Anne's new, stronger self. Occasional passages read more like a textbook than a novel, but these are balanced by the unique, engaging personalities of the spirit guides. There are other non-fiction books that cover similar ideas, but writing the book as fiction has allowed Cherry to open up the narrative in a way that is more engaging and more persuasive than other books in the genre.
Open Your Heart is an effective and inspiring novel that will appeal strongly to those seeking new paths and new goals.
Links
Author Site
Amazon
Goodreads