★★★★★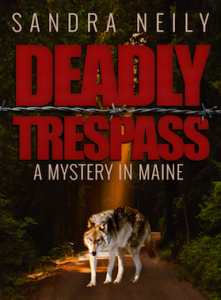 When Cassandra Patton Conover, a lone nature writer and conservationist, takes to the Maine wilds with her dog Pock into private grounds for good fishing, she discovers the body of her friend crushed under a tree. Confused by the circumstances of her friend's death, she must now risk everything she cares about to uncover the mystery behind her untimely death in Deadly Trespass by Sandra Neily.
Cassandra's task isn't so easy – she kind of dislikes people, and the politically motivated swarm descending on the issues of deforestation, resources, and the matter of extinct wolves finding their way back to Maine is starting to become a real issue, starting with the nosy reporter she now has to contend with.
When she finally has an encounter with a hidden pack of wolves, she's going to have to warm up to folks to navigate this tangled web, and solve her friend's murder. It's not her strong suit, given a horrible divorce resulting in bitterly low-self esteem to the point where she's evading mirrors, plus her unconscious cattiness to any other female in her line of work.  She's going to have to take on this potential danger head on.
Author Neily is a rare talent in indie fiction, delving into women's issues in a way that rings so true for any middle-aged woman who has lost out on love and life at some point. Cassandra is a truly captivating character – not the usual cookie cutter heroine who "has it all" and then some, but a flawed protagonist with myriad problems and a short fuse. There's much to love about Cassandra: she's loyal to her environmental cause when bombarded with corporate lackeys, and also fiercely loyal to her dog, Pock, who's a whole other character.
Neily knows her subject matter – both environmental science and her surroundings – and the wildlife is depicted vividly so it really comes alive. Her writing is reminiscent of contemporary American authors such as Joy Williams, Joanna Scott, and Cheryl Strayed, while retaining something entirely of her own. Her prose is simple and clear, and reads with the brusque nature Cassandra herself has throughout the book.
What's so fresh and engrossing about Deadly Trespass is that in its mashup of murder and smalltown politics, a la The Little Friend by Donna Tartt, or practically any Stephen King novel, it still manages to stay with the characters and their motivations, diving deeper and deeper into their lives. Although this is something of a cozy mystery, and Maine readers will lap up the local habits and locale, it's still at its core about characters and their challenges.
Let's hope this book goes some way to protecting wolves, as they are currently in danger. The novel depicts the vital beauty of the region so well that it can potentially inspire people's love for the Maine wilderness, and all its inhabitants. Although a thoroughly enjoyable work of fiction, Deadly Trespass has a deeply important message about conservation that will stay with you long after you finish reading.
Links
Author Site
Twitter
Amazon
Goodreads