★★★★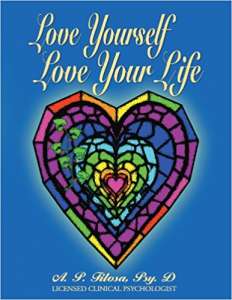 Dr. A.P. Filosa is a licensed clinical psychologist based privately in Virginia, using and refining her techniques in the day-to-day operation of her therapeutic practice. She brings over 25 years of clinical experience to the table and incorporates every part of this into the composition of her book, Love Yourself Love Your Life, which aims to bring a revolutionary method of self-help to readers called "shattered analysis."
Many of the core tenets of Filosa's doctrine stem from longstanding traditional beliefs and practices in psychological health, to the degree that various claims and general references to scientific findings are rarely necessary. There needs little proof at this point that "right-minded thinking" and reframing into positive action is effective at its core, and this is the root of Filosa's technique.
A little more hard evidence is always nice, of course, but Filosa's spiritual guide is really about the emotive core of the human experience and not so reliant on data and citations. Her overview is filtered through a spiritual lens at various points, and while there are definite Christian themes, it is typically non-denominational and not suited to those of a particular faith, so long as one is willing to overlook more explicit references.
Uniquely – and most definitely making a departure from scientific literature – Filosa's creative work can be seen throughout, marked out in special blue dividing pages. This material is most often poetry on the themes of faith, suffering, spirituality, and healing, and can range from a short stanza on the concept of Revelations to a longer piece on the cycle of hurt that emerges from parental negligence. These are interesting additions, and certainly vividly emotive, though don't necessarily add to the therapeutic nature of the read, being more of an emotional touchstone for the themes just explored and an optional portion of the book as a whole.
The lack of hard facts, scientific method, or straightforward teaching outcomes are definitely going to diminish the text's usefulness as a keystone for any solid research or practice methodology. For some practitioners, there will surely be useful advice for connecting to clients in a more humanistic manner, although the more factual efforts put forth by the book, such as diagnostic criteria and effective plans, are more effectively covered by more mainstream texts. Claims of being a "cutting edge model for clinicians and a text for psychology students" are, perhaps, a little inflated.
As a self-help book, however, Filosa has done very well at providing sound advice and spiritual guidance that is easy to access and understand through an emotive and thoughtful work. While lacking the solid "crunch" that many scientific readers may yearn for, Filosa lays a very good groundwork for any reader to work from. The workbook format is effective and engaging, and the book is very readable both in format and in the writing itself, making it a valuable source of help for those suited to Filosa's approach.
For those searching for a positive, spiritual approach to mental healing, Love Yourself Love Your Life is a solid beginner's guide to brighter thinking.
Links
Author Site
Twitter
Amazon
Barnes & Noble
Goodreads