★★★★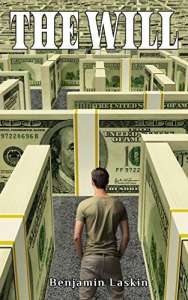 When Josh McCain's father dies, all signs point to this young man inheriting a fortune and continuing in his irresponsible, hedonistic and self-serving lifestyle, but his father has other plans in store. In The Will, a unique new novel from Benjamin Laskin, readers are introduced to a stereotypical playboy, with a Bruce Wayne-level of cockiness and untouchability, only to see it stripped away by a clever father with a vision of what his son's life could be.
In order to secure his inheritance, Josh's father composed a two-year To-Do List for his son, which will require a complete reinvention of the young man's life. From the penthouse to the poorhouse, the will is intended to strengthen his character, give him a taste of how the other 99% live, and prepare him for the challenges in life that money can't solve. Josh is understandably upset, seeing it as an underhanded trick from beyond the grave that he can counter with lawyers. However, the iron-clad will is clear: Josh has two years to change his life, or his potential fortune is handed over to his aunt.
With this amusing premise in place, readers see the silver-spoon protagonist get hit firmly in the face by reality – no fancy apartment, no credit cards, and no safety net. The list of required tasks includes everything from learning a foreign language to undoing a wrong and accomplishing something meaningful. From exercise to existential reflection, the list stands in direct contrast to Josh's gimlet-swilling personality, particularly its demand of his abstinence. However, as the reality of this two-year project begin to settle into place, Josh seems imbued with a new resolve. He begins to show the spark that his father clearly saw – a determination to disprove his doubters and achieve something most people judge as impossible.
The novel could have become a formulaic series of Josh's misadventures and attempts to tick off boxes on the list, but the philosophy behind this task is what takes center stage. Laskin shows readers the evolution of a young man who was seemingly stuck in his high-class ways, but begins to understand what his father truly intended. Having to side-step his devilish aunt and her plot to secure the fortune for herself, Josh makes a remarkable transformation throughout the course of this book, even finding a legitimate relationship that isn't based on the power of his black card or his desire for meaningless sex.
Laskin takes his time in unrolling The Will, and drops in enough obstacles and stumbling blocks to maintain the suspense – will Josh finish the list, or simply return to his decadent lifestyle? While Josh McCain comes from a world most readers can't conceive, he is oddly lovable, and a genuinely good person, once the shell of wealth and privilege is removed.
In The Will, Laskin has created a thought-provoking, funny, and inspiring novel that can potentially encourage readers to take a hard look at their own lives, make a personal to-do list, and perhaps even embark on their own challenging journey towards self-improvement.
Links
Author Site
Facebook
Twitter
Amazon
Goodreads