★★★★½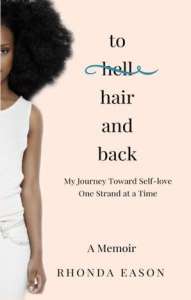 A delightful romp through a woman's head, the hair on it and the brain inside it, To Hair and Back is a life story told, as the author states, "one strand at a time." In this well-conceived memoir based on Rhonda Eason's now-overcome longing for what she saw as "perfect" hair, she demonstrates her artistic verve, cleverly aligning various stages of her life to the struggles behind the scenes with her uncooperative tresses.
African-American author Eason describes how her obsession with hair began as a girl growing up in the tough streets of Detroit. Her father was gone, and her strong-minded  mother ruled the house. Eason, a thoughtful child, considered herself unattractive, because, unlike her sisters and part Native American mom, she was cursed with unruly "Afro" hair.
She describes her agonies of desperation to achieve even the simplest hairdo. Getting professional help was impossible; the family finances were always marginal. But having her mother do her hair was often disastrous – once, her fragile strands were nearly destroyed when mom left the straightening developer on too long. Eason went on chasing the dream of perfect hair, attaining, for a while, the famous Jheri Curl, very much in vogue in the 1980s.
Eason joined the US Air Force and, stationed overseas for four years, learned to her great discouragement that the American military base salon offered no Afro hair styling services to its soldiers. Back in the US, she met Abby, who for ten years made Eason look good, always willing to try the latest craze that struck her client's fancy. By this stage, Eason describes her conflicted mental state, confessing that hairstyles had become a kind of addiction.
Whenever she faced a life crisis, she was convinced she could overcome it – if only she had a new hairstyle. These struggles are told with a kind of 20-20 hindsight dry humor at times, and others with a great deal of perception, but it's clearly incredibly sad that Eason had to live through feeling like an outcast for so many years just because of her feelings about her hair, that became a totem for her "not fitting in," and moreover, not being the same racial background as the women she grew up with. Eason has had to learn to love herself, something she has now done through writing, blogging, and acting.
Written with a competent and emotional pen, Eason examines herself without flinching. She has pieced together her journey and left a trail for others to follow, and that is what a good memoir should do. Presented well with a professional and humorous cover, this book has been prepared with care and attention.
Eason now shares hair-related product video reviews on her blog, and it is evident she is now a confident woman with a much more balanced interest in hair fashion, stating that her "chemical dependence" on hair products is now behind her, and sharing the beautiful curls and styling techniques in her photos, videos, and blog entries.
Charming, frank, at times hilarious, To Hair and Back will appeal to anyone who has ever had a bad hair day – and that is a pretty large readership!
Links
Author Site
Book Site
Twitter
Amazon
Goodreads