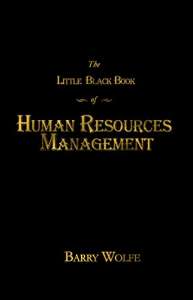 Barry Wolfe presents a refreshing but often unconventional take on some of the little-discussed but real-life happenings in Human Resource offices in The Little Black Book of Human Resources Management.
Wolfe has walked the walk – currently serving as Vice President, Human Resources for a consulting firm – and talks the talk expertly. Anyone who has ever worked in a corporate setting will recognize his authoritative voice. He has organized his text with humor and verve, but still manages to be succinct. His advice is personable as well, almost as though he is speaking directly to participants in a workshop setting.
The book answers questions that most any HR manager is going to face. Should you fire someone who uses drugs on weekends, if it isn't affecting his/her performance? Not necessarily, he says. Are performance reviews necessary? Wolfe offers tips on structuring reviews for a realistic result. He implores HR staff to smile, remember names, and make eye contact. His prescriptions are simple yet illuminating, and will be helpful to anyone in the field.
The Little Black Book of Human Resources Management should be required reading not only for HR staff but for anyone in corporate employment trying to read between the often blurry lines of office management.
Links
Amazon
Createspace
Scribd
iBooks
Goodreads