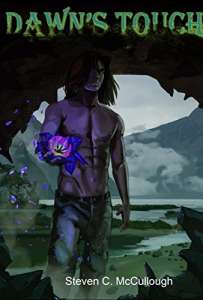 The world of Myrrosil is one of radiant beauty and terrible evil, with only the wisest few able to make reliable assertions as to which is definitively which. It's a magical place, and one full of secrets that should, arguably, never be discovered.
Enter Cyrus Farrington – romantic, quasi-adventurer, and altogether fed up and confused. Spirited away by the whims of fate and entangled in a shadowy plot, it falls on Cyrus to carry the burdens of the mysterious artifact known as Dawn's Touch, and all that comes with it…
Dawn's Touch is the first part of The Myrrosil Chronicles, and a fairly impressive one. Fans of Scott Lynch's Gentleman Bastards will likely enjoy the similar careful and detailed take on world-building, as well as the morally ambiguous plot of magic and light-fingered debauchery.
While there are a number of (admittedly) nitpicky points to be noted that could make or break some readers' enjoyment, such as the book presents itself as first-hand accounts and yet uses a third-person narrative, poor formatting, or the quality of the cover, the book overall presents an innovative fantasy universe and a modern writing style that sets it apart from other fantasy fare. In Myrossil, McCullough has established a solid foundation for a new fantasy series.
Links
Author Site
Facebook
Amazon
Barnes & Noble
Kobo
Lulu
Goodreads