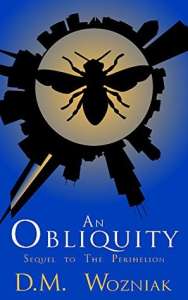 An Obliquity by D.M. Wozniak is the electrifying follow-up to The Perihelion, one of the more innovative literary dystopian sci-fi novels you'll ever read.
In the first book, the world of 2069 is on the edge of the Perihelion, a phenomenon where the planet is closest to the sun. This is a world where people have hybrid animal DNA, who are at once more advanced and more vulnerable. An Obliquity takes place the next day after the Perihelion has occurred, following the lives of the same six intertwining characters, and has the same level of intensity and inventiveness as its predecessor.
This new and final installment also expands on the first novel's themes, which is saying something, as the first book is a hefty tome that takes a fair degree of investment. This is a philosophical novel, which takes on big themes of freedom and self-reliance, without becoming too ponderous. Some of the language at times is a bit too lofty, which is not as apparent in the first novel, but this can be mostly attributed to character, and each character's story has a satisfying conclusion.
Overall, An Obliquity is a thrilling, ambitious, and highly inventive work of science fiction, and makes the Perihelion series an exciting and rewarding duo of novels.