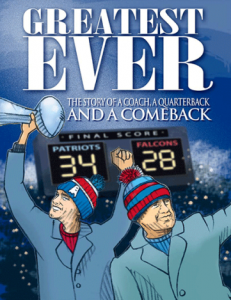 Written by Jeff Attinella with illustrations by David Boyd, Greatest Ever: The Story of a Coach, a Quarterback and a Comeback is a heartwarming sports story for the primary reader that also works very well as a bedtime story.
Greatest Ever tells the story of the New England Patriot's miraculous win in Super Bowl 51 and the Patriot's road to dominance in the NFL. With four Super Bowl wins under their belt, Brady and Belichick went into Super Bowl 51 against the Atlanta Falcons. Midway through the third quarter, the Patriots were down by 25 but came back in a miraculous upset, winning an historic fifth Super Bowl, thanks to Tom Brady, who received Game MVP.
This charming book is a story that underscores some important life lessons like never giving up and the importance of seeing potential where others may not. The road to adulthood is built on many wins and losses and Greatest Ever teaches children that there are always uphill battles, even among champions. Boyd's illustrations are spirited and expressive (more fun and cartoon-like than the illustration on the cover) and energize the narrative in a way that could easily tell the story on their own.
Greatest Ever is a great story with a solid message, and makes a great read for budding football fans, and especially fans of the Patriots.
Links
Book Site
Facebook
Author Twitter
Publisher Twitter
Amazon