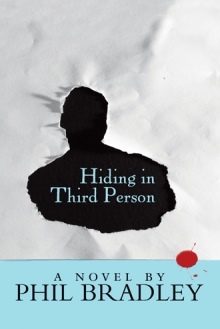 Hiding in Third Person is a riveting coming-of-age tale by a deeply talented author. It sucks in the reader from the very first paragraph and doesn't let go.
Ricky is a young orderly at the Cumberland County Asylum for the Mentally Ill which he jokingly refers to as Cumberland County Psycho Spa and Dude Ranch. An intern asks Ricky to sit with a new patient, known only as Mr. River. It's Ricky's job to listen to anything the patient has to say and soon Mr. River haltingly begins to tell Ricky a story about an unlikely friendship between two young boys five summers earlier. It's a story he's told before at other facilities but so far, no one has believed him – until now. The only problem is, it may be too late…
Bradley has written a gritty story with an eclectic cast of protagonists. Seventeen-year-old Malachi Rose is a social outcast, ridiculed by his peers. Doc and Chacha Micheletti are cousins and tough gang members with the Latin Kings in Philadelphia, looking for a way out of gang life. Great characters, an unusual setting coupled with a tight narrative and age-appropriate dialogue make for a compelling read that commands a reader's undivided attention.
Hiding in Third Person is truly imaginative storytelling at its finest, and deserves wide recognition.
Links
Author Site
Amazon
Goodreads