★★★★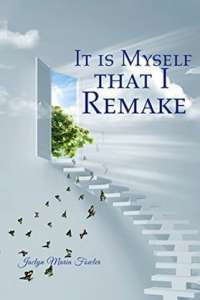 From great heartache comes even greater happiness and fulfillment…such is the message beautifully conveyed in It is Myself That I Remake, a hauntingly evocative love story by Jaclyn Maria Fowler.
Sophie O'Connor is the only child of Kerry O'Connor, an Irish-American high school English teacher, and Maggie O'Connor, an American professor of literature. With both parents being literary academics who revere the classics, especially Yeats, it's no surprise that Sophie is able to finish lines from her father's favorite Yeatsian verses by age six. From a very young age, Sophie has an imaginary friend who she speaks to all the time, believing that he's William Butler Yeats. All in all, her childhood is idyllic and she grows into adolescence, secure in her parents' love and devotion.
All that changes at age sixteen, when Sophie's young life comes crashing down around her. The first blow is sudden and tragic, and while she's still reeling from it and its devastating implications, Sophie's felled by a second, more horrific blow from which she barely survives. Only her father's anguish pulls her back from the brink of death.
Although her broken body begins the arduous task of recovering, her mind remains in tatters, cocooned as she retreats within the shell she has built around her. She goes through the motions of life without really living. Eventually, Sophie escapes to Ireland where she seeks solace at the gravesite of the dead poet who has been a part of her life for as long as she can remember. It is there that she finds the man who has the ability to touch her heart and to save both her body and soul…
It Is Myself That I Remake is beautifully written, combining crisp, descriptive prose with segments and stanzas from the works of Irish poet William Butler Yeats, who died in 1939. He was arguably one of the dominant figures of twentieth-century literature and had a life-long interest in mysticism, occultism, spiritualism and astrology, elements of which are threaded throughout the story. This is a touching love story at its core, but what makes it especially interesting is that the author has taken a historical figure, set it within a contemporary story, and has given it an unusual twist.
The love Sophie and her father share give the story its heart but it is Kerry's unwavering devotion to her that's especially touching. He's the voice of reason and her rock, the ideal father who is her protector yet is tormented by his one brother's legacy. Fowler's voice resonates solidly throughout the book and as she slowly blurs the lines between life, death, and spirituality, we accept and rejoice in Sophie's newfound happiness.
A poetic and meaningful novel, It is Myself That I Remake teaches us that there is beauty in words – words that evoke within us emotions most of us keep hidden away. More importantly, it teaches us that the elusive Happily Ever After we all so desperately seek is within our grasp – we just have to be able to recognize it.
Links
Author Site
Facebook
Twitter
Amazon
Goodreads