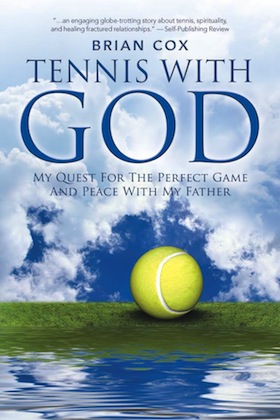 In Tennis with God: My Quest for the Perfect Game and Peace With My Father, author Brian Cox tells an engaging globe-trotting story about tennis, spirituality, and healing fractured relationships.
Born in Kenya, presaging a life of international wandering, Brian Cox was the son of a US embassy professional, ex-boxer, and tennis addict whose domination resulted in Brian learning the game of tennis early on. He lived in Yemen, Vietnam, and Colombia, and attended college in the US, continuing his interests in tennis and Eastern spirituality. For many years he worked with Dennis Adams, his spiritual advisor and surrogate father. Playing tennis with Adams was, he said, like "tennis with God." Putting together these experiences and life lessons learned, he finds the ability to forgive his real father and begins a career in holistic, naturopathic medicine.
Cox writes with assurance, and though much of what he wants to convey requires a didactic voice, such as explanations of various stages and terminology of yoga, he also provides welcome splashes of humor. He is at his best recounting his many experiences with "intuitives" and psychics, which are eye-opening and passionately expressed. To be sure, this material is best suited for those with some understanding of this spiritual path, but much of the book also focuses on issues that touch many of us. His personal revelations of childhood suffering will ring true for anyone who has grown up in a dysfunctional family.
Through it all, tennis plays an important role physically and spiritually, and lovers of that sport will grasp both the reality and the metaphor through the author's accounts. A unique memoir, Tennis with God book will appeal to people who are looking for a spiritual center, and who also have a love of sport, as Cox skillfully pulls together seemingly disparate topics into one compelling narrative.
Links
Amazon