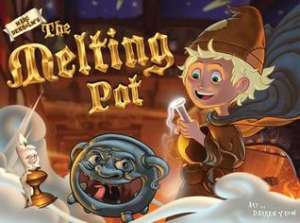 If it's an interactive fantasy you're seeking as the next bedtime story for your little one, look no further than The Melting Pot, a wonderful picture book by Marc Denholm, with superb artwork by Darren Yeow.
The Melting Pot is a potions store in Winlow Markets where Mirth, a young wizard, lives with Master Foss, the owner of the store. Mirth wants Master Foss to go with him so they can explore Winlow Markets together but his boss delivers potions all day and is too tired to go, suggesting that maybe they'll go another day…but that day never comes. Mirth decides to take matters into his own hands by brewing Master Foss the perfect potion but he encounters more problems than he bargained for along the way.
The Melting Pot is a charming fantasy and an ideal bedtime story. Yeow's artwork is vivid and finely detailed, and complements Denholm's story perfectly. Each page of artwork invites little fingers to trace the pages and search for each sneaky Hobgoblin, potion, or hungry Paperimp. The images of the dragon and the phoenix may be a little frightening to some younger children, but overall, The Melting Pot is sure to be a bedtime staple, as there is so much to explore on every page.