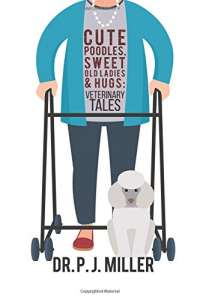 For anyone who's ever wondered what goes on behind closed doors in a veterinary clinic, Cute Poodles, Sweet Old Ladies and Hugs provides an entertaining glimpse into the world of pet care.
P.J. Miller, a real-life vet. is a transplanted New Yorker who set up his practice in Florida, supported by a sassy and very competent support staff. Miller provides a wide spectrum of patient and owner anecdotes that are oftentimes hilarious (Mrs. Sweet and Cuddles) and sometimes poignant (Katie and Willy). The book is a tongue-in-cheek misnomer, as Miller's practice seems to consist of less-than-grateful owners and those who consult the internet for their own diagnoses, or being in the constant line of fire from patient diarrhea and projectile vomiting.
If there's one thing to be learned from Cute Poodles, Sweet Old Ladies and Hugs, it's that in order to work with pets and their owners, one must truly love animals, and it's abundantly clear that Miller and his staff most certainly do. While a more structured organization of the chapters would have helped with the overall flow, this did not detract from the enjoyment of the book, as Miller's stories are alternately amusing and fascinating.
Overall, Cute Poodles, Sweet Old Ladies and Hugs is an entertaining and informative look from the inside about the frequently mad world of veterinary care.
Links
Author Site
Instagram
Amazon
Goodreads