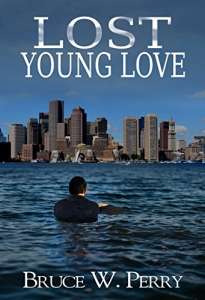 Half-tipsy confessions of old conquests and relationships aren't entirely unique, but few authors choose to dedicate an entire book to the recollection of a romantic past. Lost Young Love, however, is a funny and sincere catalogue of the narrator's cocktail napkin list of lovers, which may or may not be a semi-autobiographical confession from the author, Bruce W. Perry.
While this premise may seem on the surface like a by rote "kiss and tell" book, this brief peek into the mind of a man waiting behind a rotating door of women is actually quite fascinating. From the fumbling emotions of collegiate love to the complexities of painful, long-term relationships, the narrator takes readers on a journey to which many readers can relate.
The writing is brutally honest and cinematic, seemingly penned in the moment of these recollections, with the emotions still thick in the descriptions and erotic passages. The storytelling becomes richer once Perry moves to the Island Women section, as though these vivid memories are fresher, or perhaps the relationships were simply more meaningful to him, and so they are to the reader.
From humorous exchanges to existential musings about the meaning of love, this uniquely themed work will make you blush, laugh, and more importantly, remember your own early stumbles and triumphs in the realm of young love.