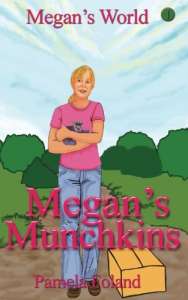 What young teenage girl doesn't have a secret or two? Megan's Munchkins, a work of middle grade fiction by Pamela Foland, shows us that secrets come in all shapes and sizes.
Thirteen-year-old Megan Thompson has been begging for a pet forever but her parents have always refused because owing one is a huge responsibility. Shortly before spring break, Megan stumbles upon a box containing four-day-old kittens in some bushes. She sneaks them home and hides them in her closet, determined to raise them by herself. Megan also begins taking on additional chores at home, resulting in her parents announcing their willingness to reconsider their position about her having a pet. If only they knew what was under their very noses…
Megan's Munchkins underscores two very important points: kids can become responsible and some parents are absolutely clueless as to what goes on in their kids' private lives. Luckily, readers have role model in Megan: a resourceful young girl and a protective den mother who fiercely guards over her small brood.
There are a few typos throughout the book, and the quality of the cover may turn some off, but overall Megan's Munchkins is an engaging read for middle-graders who love pets, with a great message about caring for animals, and an appealing protagonist in Megan to start a fun new series.