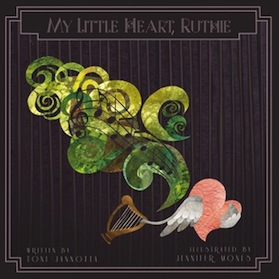 Composed with victims of emotional abuse in mind, My Little Heart, Ruthie encourages and inspires with poetry and drawings. Toni Jannotta, actress and dancer, now branches out to write children's books, in this case using limericks as her poetic medium.
Ruthie is a heart who plays a harp, but her hopes have been crushed by cruel words. When she tried to soothe people with her gentle sounds, they "barked and snapped." She's convinced she's "stinky" and "ugly," too lonely to make beautiful music—until she hears a song on the breeze that shakes her from the cold prison of her self-denigrating thoughts. It's a heart trumpeter named Clyde, who convinces her that they can make beautiful music together. The secret: she must first love herself.
Ruthie's story sheds sympathetic light on the secret suffering of abuse victims, while offering a rallying cry: love yourself and others will love you. Jennifer Mones' engaging collage-like prints illustrate this glowingly attractive art book. It will appeal especially to sensitive readers, basing its wisdom on the engaging concept of a heart that creates music.
The narrative is a bit too mature, and lengthy, for younger readers, but its abstraction and message can introduce children to a more-sophisticated mode of thinking, and as a pure work of art, it will be deeply appreciated by older readers, who can glean inspiration from its core message as well.
Links
Author Site
Facebook
Twitter
Amazon
Barnes & Noble
Goodreads