★★★★½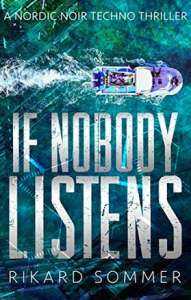 Scandinavian writers have recently captivated the attention of the literary world, beginning with Stieg Larsson's breakout trilogy, and Rikard Sommer's debut novel certainly follows in those illustrious footsteps. If Nobody Listens is a novel that defies classification to a certain degree – one part social commentary, one part an emotional tale of personal growth, and a final dash of thrills and danger for good measure. The subject of medical research and the struggles of global pharma companies may not sound like compelling reading, but in this case, you would be mistaken.
With a patient, methodical approach to exposition and storytelling, this novel starts slow, but the carefully placed characters, events, and chosen snatches of dialogue all have a much larger purpose. The story centers around Paul Bild and his effort to finally break into the world of cutting-edge antibiotics. Pitching his potential revolution to a millionaire with a sick daughter seems to be an excellent way to gain a foothold in that world, but attempting to slip into the super-competitive and cutthroat biotech industry may be more than he bargained for.
Tom Avild is his trusted partner, and an extremely unique character – brawny and brilliant – with a streak of neuroses and a bit of social anxiety. Together, these two men are attempting to make a name for themselves, and help millions of people along the way, but sinister forces are lurking in the shadows. Paul's miraculous recovery years earlier, coupled with his offer to cure his new business partner's daughter, has caught the attention of the wrong people – those who want the cure for themselves, or who never want such a cure to see the light of day.
The most interesting aspect of this novel is not the intricate plot or intensely well-researched subject matter, but the peripheral characters that populate the plot. Initially, it seems as though a huge number of characters are being thrown into the mix without reason, but as the novel progresses, it becomes clear that every choice by the author has a purpose. Each character plays their pivotal role, revealing that Sommer is not only a creative writer, but also an excellent draughtsman. Suspense is never in short supply either, even in seemingly banal scenes. Sommer's writing elicits tension throughout.
While the plot line is clear and cleverly designed to keep readers guessing, there are some moments that drag, and some of the exposition is repetitive, as though the author is trying to say the same thing in multiple ways, rather than settling on a single, strong choice.
Reading a book by an author from a different linguistic tradition is always enjoyable, and Sommer does know how to manipulate language in certain unique ways that are decidedly Nordic, giving this book a thrilling,  international feel from start to finish. More importantly, this is only the debut novel in a longer series. After closing the last riveting page of this techno thriller, the prospect of more books by Rikard Sommer is very exciting indeed.
Links
Author Site
Amazon
Goodreads