★★★★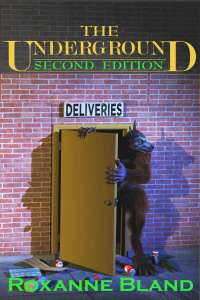 The Underground by Roxanne Bland is an original urban fantasy that pits supernatural creatures – or zots – against the larger, more paranoid, human population. In the uneasy peace that blankets Seattle, a werewolf alpha, a mage, and a master vampire fight each other and the outside world as they try to balance responsibilities and power structures. Add an alien assassin in hiding, a fifth dimensional demon, and a rebellion to the mix, and the city's about to blow. The novel is a fast-paced adventure from beginning to end with engaging characters and a strong dose of drama.
The story's three primary characters – Parker, Garret, and Kurt – are not always friends, but sometimes they are lovers, and sometimes they are enemies. Survival, however, requires them to work together, even when that is the last thing they want. Although it would be easy to assign these characters cookie-cutter genre molds, Bland has done a marvelous job of adding human elements to these supernatural beings.
Parker, the alpha werewolf, has to wrestle with his wolf, but he is far more than a hairy lump of muscle. Garret, the mage, is both more and less of a team player than the reader would expect from a member of a successful coven. Kurt is terrible in the way all powerful people are, but he uses his reputation to mask his private weaknesses.
One of the most amusing and unique aspects of the story is Melera, the alien. Bland has done a fantastic job developing a sympathetic character suffering from interstellar culture shock. Her antics can be hilarious or horrifying, depending on her mood. Her outside perspective adds a layer of complexity to the story as well.
The novel fits tidily into the urban fantasy niche without relying exclusively on overused tropes. There's enough familiarity in pack dynamics, vampiric backstabbing, and coven rites to ease anyone accustomed to the genre straight into the plot. The book cleverly uses some some of horror's most popular creatures, and Bland masks the seeds of social debate behind fur and fangs marvelously well.
The story is very well written overall, and the pacing is sound. There were only one or two areas that felt a little too sentimental to fit in well with the established mood, but they weren't long enough to seriously detract from the story's overall impact. You won't find many, if any, spelling or punctuation errors. However, secondary personalities, remote voices, etc. are written differently from regular text, and this technique is confusing at times. With careful reading, it's not difficult to understand the author's meaning and intent, but such a unique form of punctuation could benefit from stricter, or clearer, rules of use throughout the novel.
Overall, The Underground: Second Edition is a great read for adult fantasy and horror fans.  It combines mystery, adventure, romance, and horror into a compelling work of steamy, violent urban fantasy.
Links
Author Site
Facebook
Twitter
Pinterest
Amazon
Barnes & Noble
Kobo
Smashwords
Goodreads