★★★★★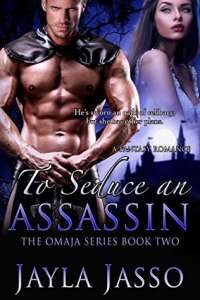 To Seduce an Assassin by Jayla Jasso, the second book in her Omaja series, is an electrifying romantic adventure that manages to improve on its predecessor. In Book 1 of the Omaja series, the rugged Yavi lost his love and has sworn off entering into another torrid affair. The younger sister of Jiandra – the heroine of the first novel, married to Yavi's brother – has had a crush on Yavi since her teens. Now twenty, Graciella has her sights set on him, even though he's taken an oath of celibacy so he can concentrate on his duties as Emperor.
Graciella makes sure that ice starts to melt bringing the two closer together, but then there are forces outside their control, as the land of Nandala is under siege by an ancient evil that threatens to bring a hoard of flesh-eating zombies to the land, and the illegitimate son of Thakur who aims to usurp the throne, which also threatens to tear Yavi and Graciella apart. As war comes to Nandala, it might just be the case that this threat from the outside brings the two of them closer together.
From the very start of To Seduce an Assassin you realize you're in the hands of an expert storyteller, as this is the kind of book that makes you forget that you're reading. Not that it's light on detail – far from it, as Jasso is able to weave world-building detail and action together. The stakes are considerably higher compared to the first novel, which adds a new element of drama that works entirely on its own as fantasy fiction, yet also heightens the drama of the romantic fantasy at its core.
Of course, this is a romantic fantasy so the sparks between Yavi and Graciella are never far away, rivaling the heat between their siblings. In fact, just as the stakes are higher in this novel, so is the heat, so readers of erotic fantasy will definitely not be disappointed…and then some. That said, it's the overall storyline that make the erotic scenes work so well, as you're pulled emotionally throughout the book – from fear, to excitement, to romantic longing – making the "hot" scenes all the more satisfying.
The only downside to the book is that it is fairly long and takes some investment, and romance readers notoriously like to read one book and quickly move on to the next. However, the book is so fully realized that the book's length is really one of its selling points. Jasso is a skilled writer at setting scene and character, so readers won't really long to move on to a new writer, or new set of characters, as this story is so rich and multi-faceted.
When reading To Seduce an Assassin one is left wondering why Jasso isn't a major figure in the romance market, as these books fully deserve to be continuing best sellers. The book is full of adventure, political intrigue, paranormal encounters, steamy romance, and more, making it a true standout among romantic fantasy fiction.
Links
Author Site
Twitter
Amazon
Goodreads