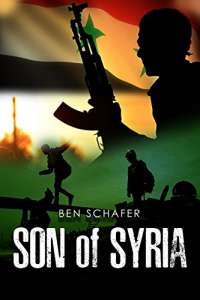 With the premise of a super-secret spy infiltrating dangerous lands to carry out impossible missions, Son of Syria by Ben Schafer is instantly appealing, but the power of the narrative and the timely, heart-wrenching story is what makes this book unforgettable.
Kyle Hoyek is an action hero in every sense of the word, but returning to his homeland – the site of his deepest sadness – threatens to chip away his armor that has been tested in battle and bloodshed. Readers are not only thrown into an edge-of-your-seat thriller with brilliantly depicted action scenes, but also moments of reflection, sorrow, and loss – all of which are expertly detailed by Schafer's narrative eye.
The writing can feel choppy at times, but there is also a matter-of-factness to it that lends credibility to the story and the desperate mood of the book. There is no time to waste for the refugees under Hoyek's care, nor does the author choose to waste words, and the terse or rushed moments of writing actually help to drive the action and interest forward. The cultural sensitivity displayed by Schafer also reveals a deep level of research and personal investment in the subject matter – refugees, humanitarian crises, Syria, and the universal idea of redemption.
Despite being a debut novel, Schafer shows a depth of writing prowess and maturity that will appeal to readers all over the world, as the core of this story is deeply human, brutally honest, and impossible to ignore.