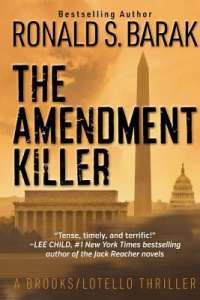 Just how far will you go to save the one you love? In The Amendment Killer, author Ronald S. Barak asks us this question within a complex and riveting political thriller.
U.S. Supreme Court Justice, Arnold Hirschfeld, and his fellow justices are listening to opening remarks in a landmark case that will uphold or invalidate the 28th Amendment. However, he's terrified after receiving a terse text informing him that his young granddaughter, Cassie, has been kidnapped to control his swing vote.
His old friend, retired judge Cyrus Brooks, notices that something's wrong and asks D.C. homicide detective, Frank Lotello, to find out what has happened. The kidnapping is quickly uncovered, but Frank is horrified to learn that Cassie, a diabetic, doesn't have enough insulin to keep her alive until the Supreme Court's decision is handed down, leading to a tense choice between the fate of a family and the fate of a nation.
The Amendment Killer starts off with a "killer" hook and then tells the story through multiple points of view that give it great range, especially given Barak's expert characterization of each player in the story. The pacing is solid, as is the quality of the writing. Despite initial concerns that the thrust of the story would be weighted down by too much "legalese," the story balances itself out nicely, which will please readers of legal fiction, and those who are newer to the genre.
A thriller with a political-legal bent, The Amendment Killer is a great introduction to the Brooks/Lotello series, and establishes Barak as a solid and exciting writer of thrillers.