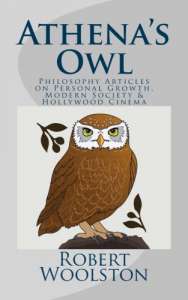 From Napoleon to Thoreau to Edward Snowden to Hollywood, Robert Woolston's essay collection, Athena's Owl: Philosophy Articles on Personal Growth, Modern Society & Hollywood Cinema, provides an intelligent and well-observed study of humanist philosophies in their earliest forms, and their transposition into modern culture.
Each of these short essays covers some aspect of morality as originally conceived, and as later enacted in film or current world affairs. The three main sections demonstrate how the ethics of such systems as Stoicism, Pragmatism, and Transcendentalism can impinge on our lives and permeate even the realm of entertainment.
The harsh upbringing and later success of Hip-Hop artist Curtis Jackson is used as an example of "ultimate modern-day" pragmatism, while the actions of technology-leaker Edward Snowden raise serious questions surrounding the moral limits of cyberspace. The acclaimed film, "Schindler's List," chronicles a sincere humanist rising to great heights of moral excellence and personal sacrifice.
Woolston avows he is "not a philosopher in the professional or pedagogical sense," so his thoughts on morality and modern life can be satisfying for the layman, but rich enough for those familiar with his subjects. Most of all, there are original and eye-opening ideas presented in these essays, which are each well-researched and footnoted, exhibiting his reverence for the subject matter, and bolstering his perspective.
With widely divergent topics and a clear, logical writing style, Athena's Owl is an enjoyable, informative armchair philosopher's survey of ethical systems and ideals that is at once challenging and accessible.