★★★★½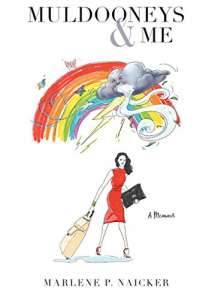 Designer, entrepreneur, survivor – all these characterize fashion maven Marlene P. Naicker, author of the emotive memoir, Muldooneys and Me.
Naicker's fascinating autobiography begins with her defeat, in high school, in a significant track meet, effectively ending her hopes of an athletic career, but she adapted a family trait to "push the limits."
Never intending to become a designer, her now-famous brand, Muldooneys, became "airborne" when she saw, at a London fashion show, that there was a need for a brand of accessible luxury leather accessories. She quickly learned that the complex, competitive fashion business begins with the essential DNA of the brand.
Her recollections span the globe from Europe to the Middle East to Russia to Amsterdam, concocting and perfecting the Muldooney DNA, which is fascinating as a kind of travel memoir, mixed with an authoritative look at the rise of a successful business. The handbags she created were daring, bohemian, and, with exotic colors and charming female names like Zoe, Cecile, and Sabine, very popular.
However, in her early thirties, her pathway to success was suddenly derailed by a diagnosis of breast cancer. She was facing "the scales of balance – Muldooneys and cancer." It is not surprising, given her earlier life experience of taking victory from the arms of defeat, that she chose an unconventional treatment for her cancer, refusing chemotherapy and trying instead an unusual treatment called immuno-biological therapy, traveling to Germany to explore this method, which involves cellular detoxification and regeneration of T-cells.
In heartrending and sympathetic detail, Naicker recounts her decision to undergo a painful operation to harvest her ovaries for future motherhood that the cancer might otherwise curtail. Her refusal to give in to despair was underpinned by a visit to the Dachau Memorial, where she reaffirmed her conviction that, "complaining must never be a part of this journey," and designed a handbag symbolically called "The Hope Clutch." All told, it's a story that's at once harrowing and hopeful, as well as inspiring, as through it all Naicker continued to develop new lines and designs – never giving up hope or strength in every avenue of her life.
The book is enhanced with numerous color collages of her imaginatively directed photo shoots: a leather tote sits alone on a cobblestoned street; three clutches in earthy tones rest against a slab of rock; a chocolate-brown dog "muse" guards a perfectly matching brown  tote. The effect is to make the book appear like a fashion magazine with a single subject, which is wholly appropriate, and gives it an enhanced level of professionalism, as well as engagingly filling in the details of her story.
Marlene P. Naicker writes with verve, and though her sentiment sometimes overwhelms her syntax, her story excites, not only because of her indomitable spirit but because even now, standing at a crossroads in her professional life, she expresses genuine enthusiasm about what will happen next, which is affecting for the reader.
Having passed the five-year remission stage in her struggle with cancer, she speaks as much of learning to accept as of trying to fight every battle. She has handed over the reins of leadership in Muldooneys to her nieces, and looks for the next creative phase for herself. The oft-repeated concept of serendipity encapsulates her own view of her life, and there is the feeling by book's end that this is merely volume one of her story.
Written both as personal memory and encouragement to others, Muldooneys and Me has the magic to intrigue and inspire.
Links
Author Site
Facebook
Twitter
Amazon
CreateSpace
Goodreads