★★★★½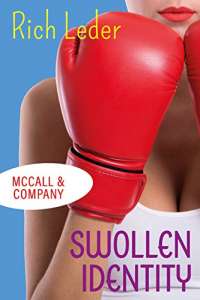 Swollen Identityby Rich Leder is the second book in the electric McCall & Company series about Kate McCall, who's inherited a PI company from her murdered father, and reluctantly takes the reins. Moonlighting as a way-off Broadway actress starring in a series of absurd musicals, Book 2 finds socialite Brooke Barrington walking into her living room, who claims to have had her identity stolen, as well as stealing a kiss…
This leads to a complex, but still breezingly entertaining case, where Kate has to contend with Brooke's deranged twin sister Bailey, who wants to murder her sister and who's in trouble with international counterfeiters, a businessman who's murdered in the same manner as her father, and the Bulgarian mob landing on her doorstep. Kate can no longer be a reluctant PI anymore, and has to learn quick on the job.
Leder's wildly colorful characters are well-established from the first book – the misfits in her apartment complex and her theatre troop – giving the book a kind of comfort if you're already familiar with the series. You always know what you're going to get with a McCall & Company novel: a good mystery, some amusingly outlandish scenes, and an eccentric cast of characters you won't really find in other books in the genre. There's a great consistency of tone within this book and across the entire series.
Now that Kate McCall has been established, and we know why she's got her PI business, the book gets straight to the case, with the requisite beautiful, aristocratic woman slumming in the depths of the world of private investigation. The familiarity the book has with greats in the genre actually works in its favor, as it doesn't feel like going through a series of tropes, but instead playing off of them, as Leder's unique blend of humor elevates the book from straight PI fiction into his own unique brand of PI comedy. It's more dry than slapstick, but on every page there's a crack of amusement that keeps the book lively and fast-paced.
There are moments that do suspend disbelief somewhat – the very fact that such a high-society woman would hire a novice as a PI, for one – but it's this kind of  heightened reality that makes the book something you can get lost in as a kind of fantasy. This is a universe where anything can happen, yet the story and characters are believable enough so the comedy, and the plot, never loses its grounding. Her friendship with a surly former hitman named Fu and his parrot named Jerusalem Joe, or Warren and his ambition to run a car rental business of beat-up Toyota Corollas, will give you a sense of the series' offbeat humor.
Though the cover has been redesigned, and may be more eye-catching, and therefore marketable, the new covers might not be totally fair to its lead character, Kate, who's not really an eye-candy kind of character – which isn't to say the book isn't sexy, because it definitely has its intense moments, and Kate has a thing for boxing, but she's also in her forties, so it doesn't quite represent her heart and soul.
Other than that small quibble, Swollen Identity is as entertaining as ever. If you're a fan of mysteries and detective fiction with a lighter mood, the McCall & Company books will never steer you wrong, and this novel manages to improve on the first book in the series by adding more of a nod to past detective novels, while still being infused with Leder's recognizable comedic stamp.
Links
Author Site
Facebook
Twitter
Pinterest
Amazon
Goodreads