★★★★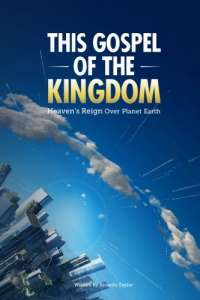 Preacher and author Ricardo Taylor explains the difference between commonly conceived facts about the mission of Jesus, and the truths he sees clearly stated in the Bible, in This Gospel of the Kingdom: Heaven's Reign over the Earth.
Taylor is convinced from his studies that the often-predicted apocalypse so many Christians believe is imminent has, in fact, already occurred. The predictions made by Jesus of the "End Times" were actually an accurate description of events already taking place: the functional end of Old Testament codes with the coming of the new spiritual template, that of Jesus the Christ. That replacement is complete; Judaism is no longer an ascendant creed – its hallmarks effectively erased in the years following the advent of the true Messiah, whom the Jews did not accept.
Though the Gospel states that Jesus did not come to replace Old Testament law, but to fulfill it, Taylor asserts that the very fact that Jesus appeared on Earth heralds a new religion based not on laws, but on faith. The Ten Commandments are a guideline to understand how to act morally, but the real foundation of Christianity is the recognition that Jesus, and only Jesus, is God. To practice Christianity, people must have absolute faith in the person of Jesus and love him unreservedly. In Taylor's view, there is no "trinity" – Jesus was and is God, not the son of God. Christians need to acknowledge that Jesus and God are one and the same.
By concentrating on worldwide doom, Taylor suggests, people are diverting their attention away from Jesus and placing it on material outcomes, which is an important message for believers to take in. By adhering solely to the moral laws of the Old Testament, people are preventing themselves from truly embracing the godhood of Jesus. The true focus should be on the Kingdom of God and the new covenant that Christ came to initiate: "God wanted for Himself a people on whom He could lavish His love and He chose us!"
Taylor quotes copiously from the Bible; at least half the text of his book comes from that one source. His research on his central thesis comes from the Bible as well, and though this limits the audience for his assertions to those who are already convinced of the Bible's truth, it also successfully establishes the author's notable familiarity with Christian theology. Intellectually scrupulous, Taylor takes care to distinguish Christian tenets and practices from folklore or common misrepresentations of Biblical text.
Since many Christians maintain cherished beliefs surrounding the image of the coming Doomsday, Taylor will be challenged to convince them otherwise, but his sincere approach may win some following. More difficult, perhaps, will be the setting aside of the notion of Jesus as the "son" of God; for though in essence, the conviction that Jesus is God is contained within the concept of the trinity, for some Christians, Taylor's unusual viewpoint may represent a stumbling block.
Focusing intently on Biblical teaching, This Gospel of the Kingdom proposes some new Biblical interpretations that may convince some readers with its sincere, well-considered call to deeper dedication to Christian life. Even if it is not fully convincing to some believers, it is a passionate and thoughtful look at Christian theology with a strong message about the power of devotion.

Links
Author Site
Amazon
Barnes & Noble
CreateSpace
Goodreads