★★★★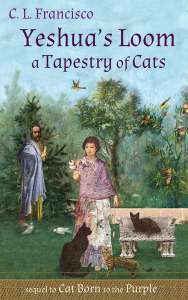 The life of Biblical figures is told by a trio of observant cats in the intriguing and inventive Yeshua's Loom: A Tapestry of Cats, the fifth volume in the Yeshua's Cat series by author C.L. Francisco.
This entrancing saga begins when Aeliana who finds a protector and potential spouse in the Roman businessman Chariton. They make their way to the home of Chariton's parents, where they will have to prove that Aeliana has become a Roman citizen before the marriage can be approved. Until that happens, Chariton cannot access the great family wealth to which he is heir.
The humans in the novel live under the watchful eyes of their cats, two of which are meeting for the first time. Chariton is owner of – some would say owned by – Nightfire, an imposing black tomcat, and Aeliana is bonded to a female feline know as Purple Gleaming in Shadow, Purple for short, so called for her deep coloring.
In Francisco's fable that highlights the life of Yeshua, or Jesus, humans and cats can converse freely, which may seem something of an off the wall premise, but it is actually quite subdued in its imagining. This is a magical tale, to be sure, but there is an important historical and religious story woven underneath the book's fantasy.
Overcoming her painful childhood traumas and finally able to accept the healing she once received from Yeshua, Aeliana will someday become a powerful entrepreneur and miracle worker in her own right. After the death of her children and then her husband, she intuitively decides to move to the city of Phillippi, where she takes the name of Lydia so as to keep her wealth a secret, and continues in her profession as an inspired, artistic weaver.
Also in Phillippi, she will encounter someone she has only heard about by rumor, a man named Paul. They share a common faith in the power and forgiving love of Yeshua, but Paul needs lessons in acceptance and love that Aeliana has garnered on her thorny path. Through her guidance, he will transform his spiritual life and begin to play his destined role: to shape the great world religion that is to come.
Francisco has woven a fascinating tapestry in this book series, with Yeshua's Loom finally bringing all the threads of the series together. The link between ancient polytheism and the new faith of Jesus is conveyed with deftness and sensitivity, which is important for a series that is taking some liberties with religious stories. Francisco intelligently fits together seemingly disparate elements into a unified whole.
For new readers, it may take a fair suspension of disbelief to be accustomed to the notion that all of this intriguing tale is being told by cats. However, animal lovers (and especially cat lovers) will respect the way she has made her cats a part of the divine creation and given them hidden wisdom, as cats have had a connection to mysticism throughout history, and these cats have an amusing take on their human counterparts. As a device for sharing the life of Jesus and his disciples, the feline observations are both charming and intellectually satisfying.
Francisco has created a singularly unique fictional series in Yeshua's Cats, and Yeshua's Loom offers a refreshing new vantage point for understanding events and people affected by Jesus of Nazareth, which works well as fantasy fiction and Christian parable.
Links
Author Site
Facebook
Twitter
Amazon