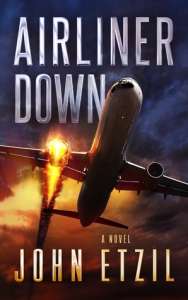 Blending high-stakes action with realistic, engaging characters, author John Etzil delivers a gripping thriller in Airliner Down. Kevin McSorley, the charming off-duty pilot at the core of this story, is the one man who can save a jet with hundreds of people on board from crashing in the middle of the ocean. With such an adrenaline-filled premise, and a shocking first chapter, readers know they are in for a page-turning treat, and Etzil makes good on that promise throughout.
In the tradition of blockbuster action movies, the writing in Airliner Down often falls by the wayside in exchange for tense moments, cliché one-liners, and larger-than-life acts of heroism, but Etzil also takes the time to paint every detail of this story for readers. From the varied passengers on board to the intricate details of airplane engineering and emergency protocols, this thriller feels very real and more than plausible, which makes it difficult to put down.
There are very few slow moments or grammatical errors, and the descriptions and dialogue are perfectly timed and authentic. By the end of the book, you'll be eagerly searching for another novel from Etzil, who masterfully mixes sympathetic characters with super-charged drama to create a story that is truly memorable.