★★★★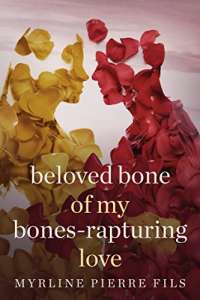 In her debut New Adult novel, Beloved Bone of My Bones-Rapturing Love, Myrline Pierre Fils tells an engaging story of the complications that arise after love at first sight.
Anna-Marie Henry has been accepted to San Mollan University on a full scholarship, and she's secretly thrilled to be leaving Boston and her domineering father behind for the warmer climes of California. What she doesn't count on is falling hopelessly in love with a good-looking guy she fleetingly sees at the airport before boarding her plane for California.
Anna-Marie happily learns that her feelings are reciprocated when the same guy shows up at her school a short while later, having tracked her down from a postcard she had inadvertently left behind at Logan Airport. John McCreeny makes no bones about telling and showing Anna-Marie how he feels about her, and suddenly her well-laid plans to become a pharmacist seem insignificant when she realizes just who her new boyfriend really is.
The two central protagonists are key to a good love story, and in this regard the novel excels.  Anna-Marie is goal-oriented and determined to keep her moral compass firmly pointed in the right direction. The hunky John McCreeny is a famous recording artist who is smitten by Anna-Marie and is equally determined to win her over at all costs. Both are attractive, and the two make for the perfect romantic pairing.
Anna-Marie and John both declare their love for each other soon after meeting. Cohabitation comes a short time later, and at first it doesn't appear that there's going to be a whole lot of conflict to keep the story interesting. However, the novel has plenty of surprises, with Pierre Fils methodically deconstructing the foundation of their love story by slowly exposing the kinks in their relationship – kinks that come in the form of insecurities, mistrust, and unexpected health issues. These moments keep the story unpredictable in what could have been a fairly standard love story.
However, despite the likeability of Anna-Marie and John, there are some things they do which come across as somewhat contrived, and too good to be true. Although John is a famous recording artist, he's very accessible, not to mention eager and willing to establish a relationship with Anna-Marie – one could say a bit too eager – which takes away from the story's romantic tension. Anna-Marie, on the other hand, comes across as slightly preachy at times, especially when instructing John to go home and see his father on the weekend.
Of course, a romance is partly a fantasy, but the ease with which the two come together is a shade too easy even for a romance. This is offset by the book's focus on the difficulties that arise in their relationship, as Anna-Marie feels some real pull between her "normal" life and John's glamour. Crucially, the sex scenes between the couple are also very well done, as Pierre Fils slyly leaves some details up to the reader's imagination, while delivering plenty of tender moments, and even some tense ones.
Overall, Beloved Bone of My Bones-Rapturing Love is an appealing love story with two engaging leads. It doesn't rewrite the genre necessarily, but it doesn't really need to, and the novel hits all the satisfying notes of a classic romance.
Links
Author Site
Facebook
Twitter
Amazon
Goodreads