★★★★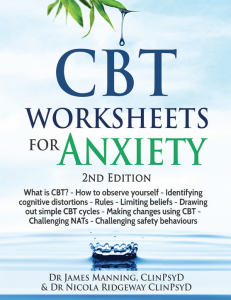 Dr. James Manning and Dr. Nicola Ridgeway once again provide their expertise on mental health in an update to one of their first books, CBT Worksheets for Anxiety. A revised manual, this book is an all-purpose guide to "CBT," short for "Cognitive behavioral therapy." This is a type of psychological therapy designed to alleviate anxiety, as well as other psychological issues.
CBT employs goal-setting and incremental, step-by-step rebuilding of unhealthy thought processes and problematic thought patterns, and is currently considered one of the most effective approaches to psychotherapy. This volume focuses on what benefits this approach can have for anyone suffering any level of anxiety, and compiles that knowledge into one easy-to-read guide.
Both Dr. Manning and Dr. Ridgeway actively work in the field of psychotherapy at the West Suffolk CBT Service in England, and their expertise can be seen in each of their separate and collaborative works. The two have created several comprehensive guides together, and it's evident from the start that the reader is in capable hands. This is no small issue, as anyone looking to put this book to use will no doubt need some assurance about the book's authority and professionalism, which is evident throughout.
The book is put together very well, with clear explanations and guides for anyone to use, whether they are using the book for reference or truly using it for their own anxiety. This was true of the first edition, and while there are many aesthetic improvements, the changes to this version of the book may not be as sweeping as a full revision might imply. There's a general sweep-up of editing flubs and typography, but these weren't an overwhelming problem to begin with. However, there is clearer formatting across the board, as well as handful of old data corrections, and new tables and charts that are a lot clearer to read than the original.
Aside from these issues, the content is generally the same – which is a good thing, as the heart of the read was solid already – and while useful, this doesn't do a whole lot to make the book worth a re-purchase if you're the owner of the first edition. As it's not a technical or diagnostic manual that might necessitate cutting-edge data and research, but more of a self-help book, which also doubles as a user-friendly manual for practitioners and academics, the content doesn't necessarily need frequent updating.
That said, this second edition of CBT Worksheets for Anxiety is a definite improvement on the first, and makes an excellent, comprehensive introduction and potentially life-long guide to CBT even better, as it is more accessible and readable, and, yes, helpful, which is of course a necessity for such a self-help guide.
While CBT is an approach that works most effectively with the support of a trained professional, as is the case for most mental health assistance, this book offers a great deal for those suffering from anxiety, practitioners who treat anxiety, or to anyone interested in CBT who needs a useful introductory primer.
Links
Amazon